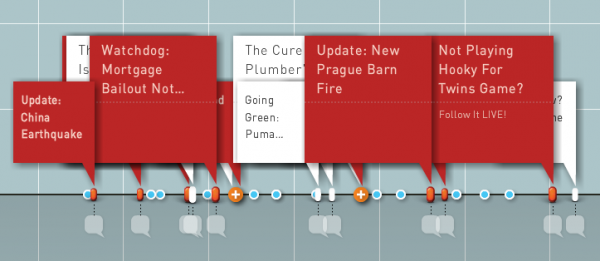 The idea for "The Wire" had been kicking around John Daenzer's head for a while, but it wasn't until a local advertiser was willing to take a gamble on this interactive news timeline that it would get off the ground.
What makes this even more innovative than the creative way it curates and displays the news is that a local television station – which often can be technologically challenged when it comes to online journalism – developed the timeline independently.
Sure, CBS-owned WCCO-TV in Minneapolis has a Web site, but as director of new media, Daenzer wanted to add new features to capture the attention of online users. 
"Everyone wants to see how the sausage is made," he said, referring to the behind-the-scenes of a newsroom.  "And sometimes it's wonderful to watch and sometimes it's ugly."  In this case, it's pretty neat.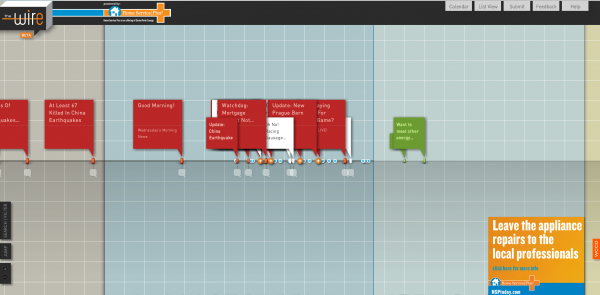 The Wire, which pops open in a new window, is a movable, zoomable three-day timeline of breaking and developing news stories.  When a user clicks on a red story box, it expands, offering descriptive text, photographs and video related to the story. Dotting the landscape, literally, are blue dots that feature Twitter posts from select partners.  And users can search, sort and jump to different stories, in addition to submitting content directly from the page. The logical extension, of course, is that with developing news this tool will provide an instant historical view; a story that evolves over time.
As Daenzer told me, it allows people to "just duck in quick and see, 'oh, I didn't know that was going on'."  The goal, Daenzer says, is to encourage those people to watch TV or turn to other stories on the site.  And posting to The Wire, while an additional responsibility for news staff, is easier than posting and updating an entire story.
"It's wildly different," Daenzer says, "and that's part of the challenge."
He won't divulge how many people are using The Wire, or how much it cost to build, but he says they'll be closely examining the metrics to see how it is being used and how it can be improved.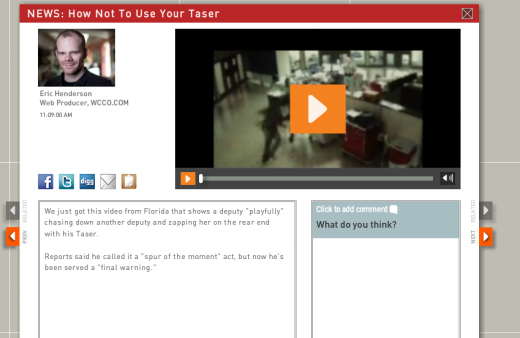 The Wire was one of a number of things Daenzer and his team wanted to accomplish.  The local division of CBS thought it was "really cool," he said, but the idea stalled until they built a small prototype to show to advertisers. 
Traditionally, advertisers have cared more about click-thru rates and CPMs than functionality and buzz.  But a home repair company in the Twin Cities said, in a sense, that they weren't sure what this project would ultimately look like but they wanted to put money toward it.  In exchange, Home Service Plus gets prominent branding on the timeline.
With money in hand, WCCO partnered with a local development shop, Nerdery, and by March 31, The Wire was no longer just an idea in Daenzer's head.
Would this have been done were it not for the advertiser?  "No," he said simply.  After a pause, he continued: "It's hard for me to say it, but it's also realistic, and it's not because the company isn't going to be supportive."  But someone still has to make the sausage.