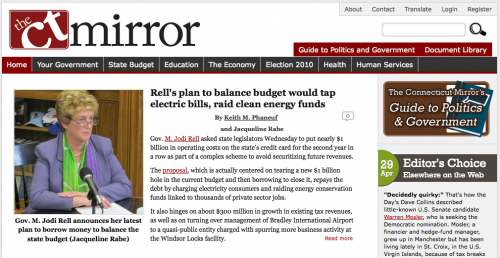 Tucked away on the top floor of the state capitol in Hartford, Connecticut, the press room has a cavernous feel, with rows of abandoned desks.
When Michael Regan worked as a reporter there in the 1970's, there were dozens of reporters from at least 15 local papers. "Now that's down to a handful of papers that keep a presence, for the most part with one reporter," he lamented recently.
A former editor at the Hartford Courant, Regan is heading up the editorial side of CT Mirror, an online-only, start-up publication covering state politics and government. And he's adding more life to the halls of Connecticut power. "We kind of went overnight to being the largest presence there [in the pressroom] with three reporters."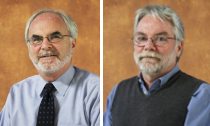 Just as impressive are the site's business operations: The Mirror quietly launched in late January 2010 with $1.8 million in commitments from seven foundations and over a hundred private individuals. Those resources alone will sustain the site's operations at current levels for three years, explains Jim Cutie, chief operating officer of the Connecticut News Project that operates The Mirror.
(Support for CTMirror.org comes from place-based foundations in the state and donor-advised funds – which are listed on the site – and from the Knight Foundation, which also funds J-Lab and KCNN.org.)
Still in the Paper Business
For a geographically small state, Connecticut always had a robust set of media outlets. Many papers cover just a small handful of the state's 169 cities or small towns, despite their close proximity. And with a governor who resigned in 2004 to face corruption-related charges and a number of other politicos serving jail time for their own malfeasance, the state is ripe with material.
Meanwhile, local papers have drastically reduced coverage in print, while others have one foot in a bankruptcy courthouse door. Of the remaining papers, Regan says, "I don't think they always see government and politics as a priority… There's a heck of a lot more going on than people realize."
Cutie and Regan, however, see an opportunity to increase the presence of the CT Mirror brand by offering their stories to existing papers, just as those editors continue to shrink staff.
Seven daily papers and at least six weekly papers are now licensing content, currently at no charge. Cutie estimates daily readership could be closer to 120,000.
Content and Context
CTMirror.org has topic areas you might expect to see – state budget, education, the economy – and stories the site produces have broad appeal. "No matter where you live in Connecticut," Cutie surmises, "what happens in Hartford affects you."
Both he and Regan suspect their core group of readers are those closest to the subject matter – legislators, staff, fellow journalists, lobbyists and the like. The second circle will be those affected by government who might not realize it yet.
"We want to make sure it expands to others elsewhere in the state," says Cutie, "to high schools, to Hispanic communities, which amount to 12 percent of the population in the state."
They're trying to take the classic marketing approach of reaching people the way they want to be reached. The Mirror relies on typical social media tools and will soon offer a widget others can embed on their sites to help give its content legs. The site is described by Cutie as a "work in progress".
Men of a Certain Age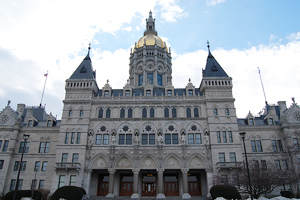 Not unlike Regan, Cutie is another veteran of newspapers who jumped on board with The Mirror because of the mission. "I just related to the project right away," he explained. "It's very hands on and you're accountable for moving the dial."
He brings more than 35 years of media and marketing experience to the back offices. Regan has covered Connecticut for more than 20 years and the first two reporters hired prior to launch, Mark Pazniokas on the political beat and education reporter Bob Frahm, both spent decades covering the state.
Their newest hire is Keith Phaneuf, another political writer who worked for a regional paper in the state. Their bylines are well-known to readers in the state, and dovetail with the work of Jacqueline Rabe, a reporter who brings online chops to the table.
Their collective experience – "We're all 100 years old," Cutie quipped – has added instant credibility to the project. (Lest you think this is an all boys club, the Board of Directors is primarily women-led.)
"If we do this right…"
The Mirror plans to expand coverage into the areas of energy, the environment, and health care. To that end, Cutie has funding proposals out to support expansion with dedicated beat reporters. Vertical newsletters on those subject areas may flourish down the road.
Plans are also on tap to create a Commons that would feature editorializing not by his staff but by others. It would house "real dialogues" and would expand content. And the team hopes to add Washington, D.C., based reporting, as well.
Those content areas may provide additional foundation support to the site, which Cutie sees as the strongest branch of the Mirror's revenue tree. Additional support comes from corporate sponsorships and individual donors.
An initial fundraising letter sent pre-launch ("Not something we did scientifically," adds Cutie) brought in support from approximately 50 percent of recipients – an extraordinary figure by most fundraising standards. "It would be great if we could scale that across the state overtime."
Cutie has a theory. There are only 50 states and only 50 capitals, he notes. So you could find the formula. "Somewhere there's a number – maybe in the $2 million range," he says, where you could basically replicate this model. "In today's world, that not that hard to do." He looks at the Texas Tribune as a similar approach.
He expects to see more statehouse-centric reporting initiatives emerging. "This is one of the few niches in terms of subject that would work across an entire state. With a handful of experienced and qualified reporters, this should work in a lot of places."
Judging Success
The small staff and 'do-it-yourself' feeling of the start-up is on the one hand liberating and on the other hand nerve-wracking, explains Regan. "It's made me appreciate the copy desk and photo desk [at the Courant] a whole lot more," he said, now that he is the copy desk and photo desk.
Regan judges the site's success by the reaction of its readers. In a recent trip back to the state capitol, he was waved over by a legislator he knew from his days in the pressroom as a Courant reporter. "And he just said, 'You guys have been doing a great job'. That meant a lot," Regan said.