With the Sacramento Press expecting to reach profitability later this year, co-founder Ben Ilfeld credits audience participation and a diverse business strategy with the company's success.
From the launch in late 2008, Ilfeld focused on community conversations as a way to deliver the news.  "We weren't doing this to challenge newspapers," the self-described former ski bum explained. "We weren't going to go up against a behemoth."
Instead, they set out to re-imagine the article as a starting point for a larger discussion.
Storylines and Conversations
Articles, written both by professional journalists and community contributors, include a storyline feature where users can flip to a previous piece on the same issue or follow new developments.  This makes reporting on the city budget, for instance, an on-going discussion, Ilfeld said.

On an article page, there is, deliberately, little to distract a reader from the end of the article and the start of a "conversation" section, rather than the typical "comments" section.  Designers also took the small step of including quote boxes to add to the feel of a true conversation. But the article is just a jumping-off point.

Managing the community has actually been rewarding, Ilfeld said, who until recently handled all customer service on the site himself. Commenters use their real names and are verified.  "We didn't have to enforce it as a rule," he said.  "It became the norm."
The site, like so many others, was not without its "thorns in our side," he said.  But by picking up the phone and engaging those users, he says he actually turned some of those "trolls" into the site's most prolific writers.
The site is also based on a community tagging model: Rather than sections and categories, users tag stories and based on that, editors can easily add the most popular tags to the menu bar.
Community Contributors
The site mingles the work of three paid reporters and two editors with more than 800 community contributors in just over a year.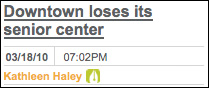 Last year, the site implemented a badge system so a reader can look at an icon adjacent to the byline and determine a writer's status on the site.  Badges are also earned for front-page stories and for contributors who attend any of the Sacramento Press's free workshops on journalism, photography, or ethics, to name a few.
"We found that our community contributions have gotten so much better," over time and as a result of these workshops, Ilfeld explained.  To manage the group, the Sacramento Press has brought on a full-time individual to recruit and oversee training.
Building a Network
While Ilfeld is pleased with the "insanely good success" of Sacramento Press, he sees the site as just one component of his company's strategy.  The other primary focus is a recently launched local ad network.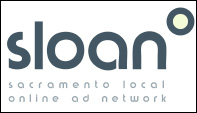 SLOAN – the Sacramento Local Online Ad Network (sacad.net) – ties together more than 25 other Sacramento blogs and news sites to offer advertising buyers a simple solution to reach a wider audience. 
The network reaches approximately 476,000 unique users in Greater Sacramento and served 7 million page views in January 2010. Pricing is set at $18 CPM, cost per thousand.  [Link to media kit (PDF)]
In partnering with Adify to serve these ad units, he tries to keep other site publishers realistic:  "You can't turn it on and sell enough to make a living wage," he said.  "It can probably make your car payment, not your house payment."
Ilfeld has managed to launch the site and ad network without the support of venture capitalists or other investors; he and four others invested time and money to bring these to life.  He prefers it this way, he adds.  It allows his team to be more flexible.
In fact, Ilfeld confirms he is "exploring and intending" to build out a similar ad network in the Bay Area.
Site Revenue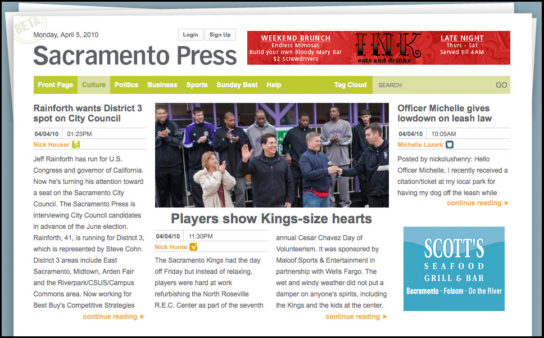 SacramentoPress.com has averaged roughly 30 percent monthly growth in 2009, with more than 120,000 page views per month on about 40,000 to 50,000 unique users. 
But rather than sell ads on a traditional CPM model for the news site, Ilfeld's team offers monthly sponsorships.  When the site launched, those packages topped off at $200 per month.  Now, just over a year later, $200 represents the floor price on advertising packages. 
In 2009, its first year of ad sales, the site collected a total of $56,000 in display ads.  That accounted for 65 percent of the site's revenue.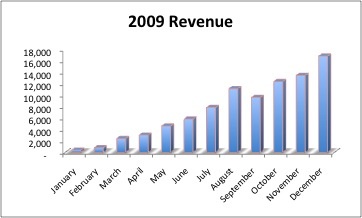 To bring in additional revenue, Ilfeld and his partners are consulting, building websites and running social media campaigns for other local businesses. 
In addition to five paid editorial staffers, the Sacramento Press employs seven business, sales and administrative staff members.
Biggest Challenges
When the Sacramento Press launched in 2008, Ilfeld would have said his biggest challenge was not having enough local news.  "We don't believe that's a problem anymore," he explained. 
In fact, the legacy newspaper, the Sacramento Bee, launched an initiative called Sacramento Connect that brings in content from other local sites.  Ilfeld does consider it a challenge to his site. 
He also tells the story of a local news director who sent a memo to his television newsroom staff saying, in a sense, 'We're getting scooped.' That means we're having an impact, Ilfeld says.
Ultimately, to gauge his success, Ilfeld returns to one of his first goals: Proving that local online news can be profitable.  We should know by the end of the year.