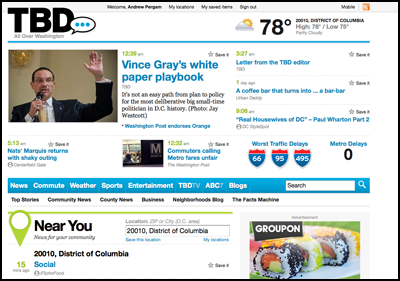 Washington, D.C.'s local media scene officially welcomed a new player Aug. 9.  TBD, as in To Be Determined, is a venture of privately-held Allbritton Communications, which also owns the website and newspaper Politico, an ABC affiliate and a 24-hour cable news channel. TBD.com is not only a local news website, but it also has replaced the TV station websites for WJLA and News Channel 8.  The much-anticipated launch has also offered quite a few lessons for others interested in operating their own news websites:
It's okay to launch with bugs. As editor Erik Wemple's launch day post revealed, they went live with 30-odd bugs that they were hoping to have fixed:
"We could have waited a day or so longer to squash all those bugs. But we decided that eliminating them post-launch would align with our philosophy—namely, that we're TBD, a site whose development is always uncertain, forever under construction." 
While you shouldn't launch with major outstanding problems, some bugs are to be expected.  Consider your audience to be a no-cost Quality Assurance team that can help point out mistakes.  Go ahead and acknowledge the elephant in the room.

Hold 'What If' meetings. Even without a site on which to publish, the staff of TBD met weekly to hash out strategy for major news events.  These 'What if…' meetings allowed the team to consider how they would react to breaking news.
A few weeks ago they debated coverage of a minor earthquake that had the region talking.  "How do readers fit into this?" asked one staffer, challenging the group to think of ways to invite their participation, rather than wait for them to "come across the transom."  One chimed in: "We'd be inviting people from the start.  Go to the map and tell us where you are."  Another offered: "We have to go multiple avenues, and we have to verify."
"What we decided is to say we're going to grow together both in content and in sales."
– Steve Buttry, Director of Community Engagement
Develop partnerships pre-launch. One of the remarkable feats of the TBD launch is that they signed up 129 blogs and neighborhood news sites as partners before the site hatched.  These sites offer 129 extra sets of eyes and ears on the street.  We believe in exploring these collaborations (see our Networked Journalism project) as they provide terrific inroads into your communities and can juice your credibility and coverage.
TBD's network is different from others we've seen in two major ways:  TBD takes only a headline and links to the blog post, rather than trying to incorporate another site's; and it is developing an advertising network that aims to allow bloggers to place ads across each others sites.
"Developing a successful business model is a key part," explains Steve Buttry, who heads outreach with bloggers and other news publishers.  "What we decided is to say we're going to grow together both in content and in sales." As it stands, bloggers would retain 35 percent of any gross sales on their sites, according to Buttry.  After adjusted for commissions and fees, that works out to about a 50 percent split of the net sale, he adds.  We'll report more on this as it develops.
Devote time to engage your community. Of roughly two dozen on the editorial side, six are devoted exclusively to community engagement.  They're not reporting in the traditional sense.  They're using social media tools to reach out to users and to search for news.  This means they can reply to tweets individually, they can get a sense of what topics are trending locally, and they can put a human face on TBD.  And they're actually meeting face-to-face with users at events around the region.
Even without a large staff, you should devote a good portion of your time to engaging users where they already exist.  Don't expect them to come find you.

Don't be afraid to link to others, even your competition. On its first morning, TBD was linking to stories from two of its major competitors, The Washington Post and WTOP (an all-news radio station and website).  As perhaps a result, The Washington Post, among others, tweeted a welcome to TBD and included a link to TBD.com, despite the direct competition.
"We're letting go of the idea that we are the single, sufficient voice for the community," said Jeff Sonderman, senior community host for TBD.  "That doesn't work.  To cover a community this size, you need to create a patchwork of professional and amateur sites."
"To cover a community this size, you need to create a patchwork of professional and amateur sites."
– Jeff Sonderman, Senior Community Host
This builds trust, indicating to your audience that you are, in some way, on top of every story and aware of other people providing coverage.  Those sources may in turn direct users your way when you lead the reporting on a particular news event.  These days, no one news source can be everything to everybody. 
Include tools for easy sharing. Your primarily goal should be to get your content in front of even more eyes, and enlisting your audience to make it happen is the best way to do it.  When someone recommends a story to his or her friends, it carries weight. 
TBD has created a simple way to accomplish this using Facebook and Twitter functions.  In fact, they've already written a Twitter message for you and, wisely, have given you a pre-shortened URL at the bottom of the page.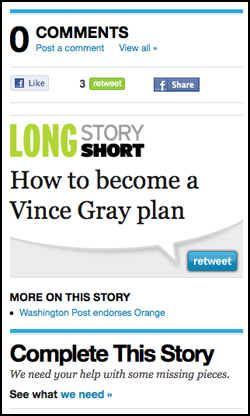 You'll also notice that they have not included myriad methods of sharing content on Digg, Delicious or any of dozens of other content-sharing sites.  They have deliberately targeted the top two places where most people share stories these days.  The lesson is to figure out where your users are and the best way to help them share your content.
Since stories are shared so easily, recognize that each article page may be the first time someone lands on your site.  In a sense, every page is a home page.  So every page on TBD offers a look at the "Best of…" the site, as well as news from around a particular ZIP code, which can be customized.  Consider how your users will discover more of your content once they're done with their first story.
Be as transparent as possible. Your tendency may be to hold all information  close to your vest. But in the weeks leading up to launch, the TBD staff was open about how their site would operate and what partnership agreements look like.  The only details they withheld were the launch date (they went with a vague 'sometime during the summer') and the actual site design (although they discussed functionality). 
The leadership took every opportunity in the press to talk about the site.  They posted a blog to keep interest up and offer a behind-the-scenes look as the site developed.  And they are not wedded to any components of their first iteration.
"We'll be happy if it changes," said Sonderman.  "Whatever we have when it launches, we hope the features will double in the first six months." 
It is, as they say, TBD.
Disclosure: The general manager of TBD, Jim Brady, serves on the advisory board for the Knight-Batten Awards for Innovations in Journalism and is an alumnus of American University's School of Communication.