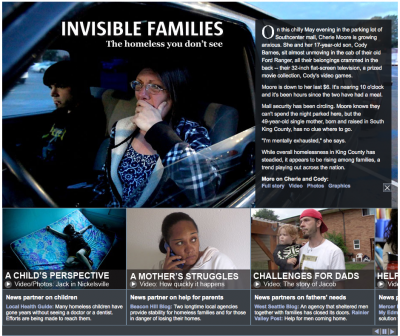 Kudos again to The Seattle Times for reporting a complex topic using trusted journalists in their hyperlocal partnership.  This time, the paper had seven of its partners write stories around the issues homeless families in their neighborhoods face for a multi-part printed and online series called "Invisible Families" synchronized to run on Monday.
My Edmonds News wrote about the creation of emergency shelters in that city, the Rainier Valley Post explored a refuge for homeless fathers, while Mercer Island Blog, covering what some consider "an enclave of rich, waterfront-living people," reported on homelessness on the island.  A doctor who runs Local Health Guide weighed in, too, as did other bloggers or local journalists. 
The stories all ran on the individual sites and were incorporated into the broader coverage.  It complemented multi-media reporting conducted by Times staff and culminates in a rich, vibrant central website. 
"All of these elements in isolation would not have been told as deeply or as well,"  Kathy Best, managing editor for digital news and innovation, said in a press release.  "Working together, however, The Times and its news partners were able to unearth city-wide themes; share resources, story ideas and news tips; complement and build upon each others' work; and, in the end, produce something greater than the sum of its parts."
In May 2010, the paper also experimented with reporting done by its partners on the topic of graffiti.  Reporters, as well as bloggers and editors of local sites, fanned out to cover stories related to the topic, all with different angles.  And their geography offered the coverage tremendous breadth.
Of particular note in both cases is that the paper took the opportunity to highlight the byproduct of the relationships – on the website, in print, and with an outreach campaign that included press releases.  That raised awareness of the collaboration and recognized the work of the Times' staff, as well as its partners.
The Networked Journalism project, funded by J-Lab and the Knight Foundation, brings together legacy news operations and hyperlocal partners to develop strategies for sharing content, traffic and reporting.
The homeless families project conducted by The Seattle Times was part of a fellowship with Seattle University, and was funded by The Bill & Melinda Gates Foundation.