In 2011 The National Association of Science Writers (NASW) got a bit of a windfall – some $250,000. It came from fees the Authors Coalition of America collected for reproducing members' printed copyrighted material, mostly in Europe. To cycle the funds back to its writers, the association invited grant proposals.
One of the strongest came from two women media entrepreneurs who were working at the University of Utah. Their idea: to launch an online science journalism site for the state.
"There's just so much going on in Utah," said Kim Schuske, a research assistant professor in the university's biology department.
In January 2012, NASW awarded $35,000, one of its largest-ever grants, to help Schuske and her associate Julie Kiefer launch Explore Utah Science.  A key piece of their proposal was a partnership with a public radio station.
"We took a risk with Explore Utah Science and they performed to a T. "
They created ExploreUtahScience.org and now the site has regular stories on all-news, all-local KCPW public radio and the Salt Lake City station links back to their site. "It was our way of creating product that people could only hear on KCPW," said Ed Sweeney, president and CEO of Wasatch Public Media, which bought KCPW-FM from Community Wireless of Park City in 2008.
Robin Lloyd, head of NASW's program committee, said Explore Utah Science stood out. "They had a plan. They had a partner. We thought it was executable. We also thought it was a replicable approach.  I'd love to see Explore Wisconsin, Explore Ohio, Explore Mississippi."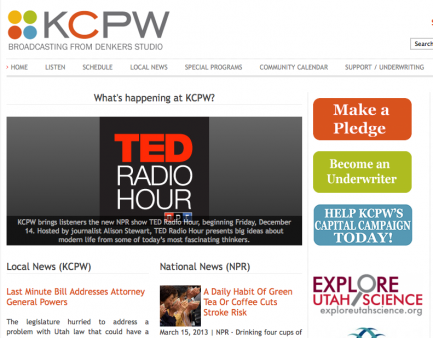 Utah, it turns out, is a STEM hot spot and fast becoming one of the nation's high-tech centers.  It ranks third in STEM [science, technology, engineering, math] job growth, seventh in high-tech business, and fourteenth in STEM job concentration, according to a recent Enterprising States report from the U.S. Chamber of Commerce. The state's Tech Council counts some 7,000 tech companies. The state legislature has poured millions into supporting high-tech enterprises and recently approved another $10 million for STEM activities.
"The University of Utah is a world-recognized research university, especially for medicine," KCPW's Sweeney says. "We're in the West, so there are a lot of environmental issues," he said. "I think the community has a real entrepreneurial spirit.  They are the ones who take these start-ups and incubate them into companies."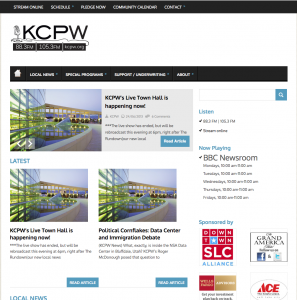 But he acknowledges that KCPW is the David to KUER public radio, the Goliath owned by the University of Utah, so he is looking for programs that would be unique to KCPW.
"The way that we have survived in the market is we try to focus on what I call hyperlocal content, issues that are relevant to our Salt Lake City residents."
"We took a risk with Explore Utah Science and they performed to a T. They are doing a great job," he said.  He is also trying to add unique content around higher education, green architecture, arts and culture.
Schuske, who had previous broadcast experience, is now working as a part-time reporter for KCPW. Kiefer is a research communications specialist at the university's Brain Institute.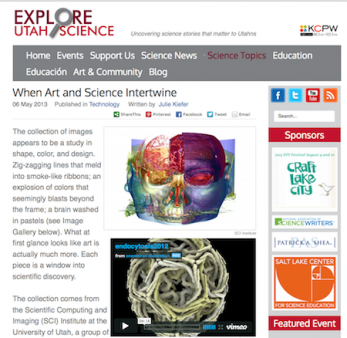 While the site has rich content and recently applied for nonprofit status, Schuske acknowledges that it is a long way from being sustainable. "We need $100,000 a year for both of us to do this full-time," she said.  
Already Utah Public Radio is starting to use some of their stories. They are seeking sponsors and trying to get buy-in from the community and expand as an educational outlet.
While they have talked with the university, they want to steer clear of doing university promotions. "We don't want to go to a department and say 'Give us money,'" Schuske said, "but we won't write about you in a promotional way."