Two years after the Connecticut Mirror launched to cover public issues across the state, the news start-up moved into the Hartford headquarters of the Connecticut Public Broadcasting Network, home to CPTV and WNPR public radio.
"Proximity really matters," said Jim Cutie, who, as the Mirror's CEO, helped orchestrate the 2012 move into space one floor below WNPR, the nonprofit news site's biggest collaborator.
It was just another way to take one of the nation's more robust public-indie media partnerships up another notch. "If the staff thinks you are in sync, they behave as if you are," he said.
"Our goal was to make the content ubiquitous. Sponsors and supporters love that we have that kind of reach."
To date, WNPR and CTMirror.org have shared the costs of reporters, co-published content, collaborated with interviews and made sure print reporters got audio training, said John Dankosky, WNPR news director. Dankosky, for one, was among the group of local poli-influentials who paved the way for the Mirror's creation.
"They're giving us content that we wouldn't be able to get and we're giving them exposure," Dankosky said.
Then in April 2013, Cutie was tapped for a new role. He was named Content Director of the Connecticut Public Broadcasting Network (CPBN) with a mandate to figure out how to distribute news across all the statewide network's platforms and amp up the role of news video.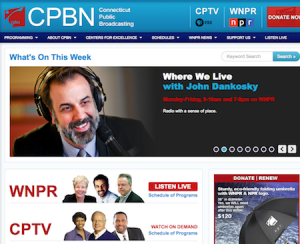 "Cutie? He's my boss now," said Dankosky, whose hosting of the popular "Where We Live" has made him a state household name.
There's no question that the state's size – 3.6 million people across eight counties – has helped WNPR and the Mirror build a robust statewide news network.
In their latest foray, the Mirror and WNPR wanted to beef up coverage in the western, New York-centric, part of the state. They secured funding to co-hire in June 2012 a full-time environmental reporter based at Fairfield University in Fairfield County. "We wanted a foothold there," Cutie said to foster coverage that was less Hartford-focused.
"I'd love to have that situation five times over" with multimedia reporters filing stories for both the Mirror and WNPR, Cutie said.
Cutie, a former New York Times Co. executive, helped launch theMirror in 2009 on a shoestring budget with an editor and two reporters. With his move to CPBN, the site has grown to 10 full- and part-time staffers and a $1.1 million annual budget. It is the only news organization in the state with a full-time correspondent in Washington, D.C. 
"In the course of all that, we were very aggressive in getting partnerships," Cutie said. "We give our content away." [Soon, however, the Mirror might charge news organizations that use its Washington bureau stories.]
"There are 17 dailies in the state, and we have partnerships with 13 of them," Cutie said, plus collaborations with most of the state's other ethnic and alternative news outlets. Participants include The Hartford Courant, former home of many of theMirror's staffers.
"Our goal was to make the content ubiquitous," Cutie said. "Sponsors and supporters love that we have that kind of reach."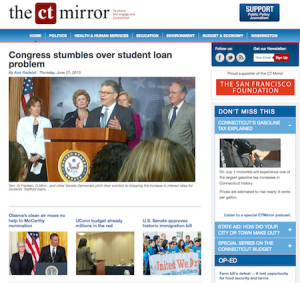 Growing that reach involves getting Mirrorreporters on the air and WNPR reporters on the Mirror's website. For instance, when theMirror did enterprise reports on the state budget, Dankosky advanced the series of budget stories on his program using theMirror's lead budget reporter, Keith Phaneuf.  He then interviewed the governor and followed up with input from the reporter.
WNPR often gets stories from Ana Radelat, the Mirror's Washington correspondent. "We don't pay for her, but Ana files often for us," Dankosky said.
And Mirror editor Jenifer Frank and Dankosky talk all the time, Cutie said. "It's as if it's a single newsroom."
A more integrated collaboration involves raising money to share reporters. In 2010, the Mirror got a three-year grant to share reporting "fellows" with WNPR and theNew Haven Independent. One fellow per year worked a four-month stint at each of the three news organizations and produced stories for all. Politico hired one and the Texas Tribune hired another.
With Connecticut shoehorned between the New York and Boston media markets, there is opportunity for lots of local and regional coverage and there is high interest in sports and politics. WNPR not only produces a robust three full hours of local talk shows but CPBN also includes CPTV Sports.
"There is neither a here nor there unless we do it, so we can pretty much cover the whole state," Cutie said.
The online/radio partnership has been almost seamless. The next push, Cutie acknowledges, is for print news organizations to figure out how to do similar partnerships in the online world where the "cannibalization" of unique visitors is more likely to occur, Cutie said.
Next up: the Mirror and WNPR will soon launch a civic-media website, seeking more peer-to-peer engagement from active contributors affected by public policy. Spearheading it will be Heather Brandon, one of Dankosky's former producers.
"In public media, we tend to say: Let's do more together," Dankosky said. "The most important thing is to get information out there."
<< Previous: Oregon