---
Publication Date:
July 8, 2013
Authors:
Jan Schaffer
Formats Available:
hard copy, pdf
What people are saying:
"Nicely done. This will get some important attention."
– Mike Marcotte
---
"One of, if not the best, treatment I've seen of what we are trying to accomplish here."
– Doug Price | President & CEO, Rocky Mountain PBS
---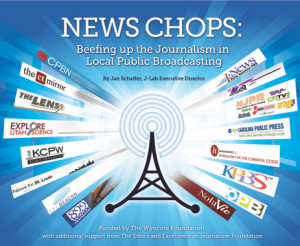 Unfettered by competitive pressures and fortified by trust in their brand, public broadcasters are finding new ways to engage in more local journalism, especially more investigative and enterprise journalism, than ever before.
From unprecedented mergers to unique partnerships, from shared workspace to shared reporters, creative approaches are positioning public radio and television stations to step up to new roles in their local news ecosystems. In the process, some are becoming critical linchpins for state and metro-wide news networks. 
J-Lab at American University examined various efforts, large and small, through nine case studies in its new report, News Chops: Beefing up the Journalism in Local Public Broadcasting. The report was funded by the Wyncote Foundation, with additional support from the Ethics and Excellence in Journalism Foundation.
Profiled are the creation of statewide news cooperatives in Oregon and Connecticut and New Jersey, building newsrooms from scratch in Denver and New Orleans, merging two existing newsrooms in St. Louis, and adding reporting firepower in San Diego, Salt Lake City, and the rural Blue Ridge Mountains region of western North Carolina.
Download the report. (pdf)