I was enthusiastic about this, but I had no idea how transformative this would be for us. It changed the center of gravity for our whole organization.

– David Shribman | Executive Editor, Pittsburgh Post-Gazette
In early 2010 the Pittsburgh Post-Gazette was invited to participate in a Networked Journalism pilot project. It didn't take long for editors to circle back with a new vision for a partnership.
With small energy companies swarming the region looking to lock in leases for natural-gas drilling rights, the paper proposed a topic-based project focused on the many implications of fracking in the Marcellus Shale.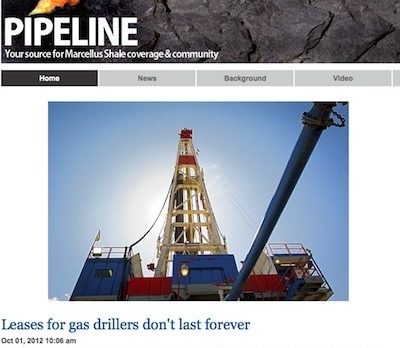 With that large swath of sedimentary rock snaking under most of Western Pennsylvania, competing assertions were ricocheting around the region in ways that left landowners besieged, municipalities beleaguered and politicians benefitting.
"It was a tsunami of change and interests," said Jim Russell, founder of Burgh Diaspora, a blog about Rust Belt economies and one of the network's original partners. "Money was flowing in . . . For the most part, Pennsylvania was caught completely unaware."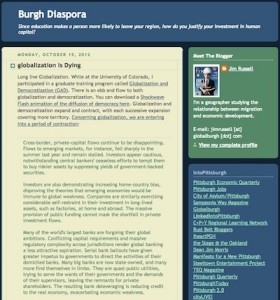 The Post-Gazette (P-G) proposed a thematic network built around a website dedicated to ongoing coverage of drilling for natural gas, but it would have a wider zone of coverage, across Appalachia, than the newspaper itself does.
The project is unique in that it is the only Net-J pilot site that developed a discreet website with original content. The site, Pipeline, launched on Feb. 27, 2011, becoming a "start-up operation inside a legacy newsroom," said project leader and lead reporter Erich Schwartzel.  "Our greatest success has been introducing gas-drilling coverage to communities where drilling is rampant, but investigative journalism is not."
The site's journalists and partners had to quickly ramp up their knowledge of complex leases for drilling rights, infrastructure for transporting the gas, and the effects of supply and demand on pricing. They had to track various taxing ideas, local ordinances and state laws. Most important, they had to understand the political, environmental and economic forces at work. By all accounts, they did a notable job.
The site was jumpstarted with content from some unconventional partners recruited for the network.  It was soon populated with daily news, enterprise stories, curated headlines from elsewhere, various Twitter feeds, as well as reports from the business news staff and newspaper's statehouse bureau in Harrisburg. It hosts a map of shale well permits, a list of local ordinances and an interactive timeline.
Just six months after its launch, Pipeline was honored as the year's Best Specialty website by the Online News Association. In the spring of 2012 it snagged a $10,000 Scripps Howard Award for environmental reporting and a "best blog" award from the Society of American Business Writers and Editors.
"It's so much more than I ever imagined it could be," said Mary Leonard, deputy managing editor who credits the project with being a "catalyst" in the newsroom.
Editor David Shribman agrees. "What you guys did for us was to allow us to reach potential we didn't know we had and to make what was peripheral central.
"All because of your organization, we are doing things we weren't doing before on the web and in the community."
The Pipeline project resulted in far more original reporting and co-publishing than most of the other Networked Journalism projects. The partnership itself, however, is less widely publicized although its existence is easier to discover on the latest iteration of the website. Unlike participants in the other Net-J projects, most of the Pipeline News Partners do not know one another and have not been brought together for training. While there is shared content, there is little cross-promotion among the partners. Original partners include:
Burgh Diaspora, which focuses on migration and economic development.  Jim Russell was recruited after urging media to pick up on some of the energy-company developments he was witnessing. In the early going, he sent weekly blog posts, most of which Pipeline published.
 Allegheny Front, a weekly half-hour show on WYEP-FM public radio that covers Western Pennsylvania environmental issues and is picked up by other stations.  It has invited Schwartzel to be on the air, has repackaged audio from Post-Gazette videographers to run as full stories on their programs and also used P-G photos to illustrate its web stories.
Frac Tracker, originally a project of the University of Pittsburgh School of Public Health that recently spun into a nonprofit alliance. It chronicles the impact of the global shale gas industry by collecting, interpreting and sharing data and visualizations. Its most recent contribution to Pipeline is a map of fracking bans in New York.
Andrea Iglar, a freelance reporter who has focused on tracking the patchwork of ordinances drafted by individual communities to regulate the activity.
Filmmaker Kirsi Jansa, who was funded by the Pittsburgh Foundation to produce a series of short documentaries called "Gas Rush Stories" on how fracking is impacting the region.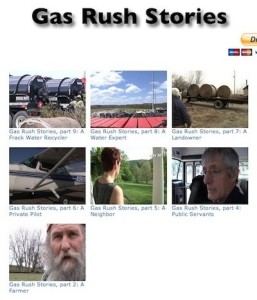 Partners were given between $2,000 and $4,000 from the J-Lab funding.
Kathy Knauer, Allegheny Front's executive producer, has been pleased with the partnership, especially as a way to promote her program's content.  "We are a small independently produced environmental program," she said. "The Post-Gazette has much more visibility. "
In early 2012, she said Allegheny Front also signed on to have an editing group work with Kirsi Jansa to help her make her documentaries more balanced and "less advocacy-driven."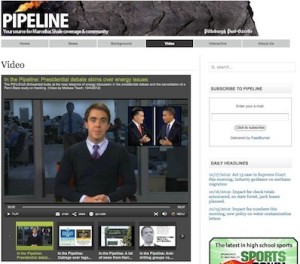 Pipeline has been creative in its use of social media and in developing interactive elements.  For instance, it launched  "In the Pipeline," a weekly video show that analyzed the week's news and solicited reader questions via Twitter.  They developed a Pipeline news widget, but efforts to get other news outlets to post it didn't get much traction.
Early in the project Pipeline and Allegheny Front employed a Facebook challenge to see who could be the first to get 1,000 likes. Pipeline's Facebook page won, earning them a berth on the show.
When Pipeline journalists noticed that most of their Facebook posts were coming from anti-fracking folks, they began posting Pipeline content on sites that advocated for hydraulic fracturing to generate more diverse activity, Schwartzel said.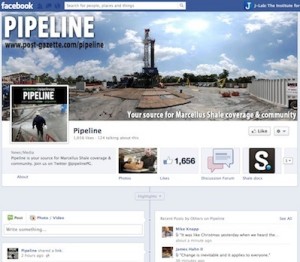 The Post-Gazette's sales department has sold some advertising on Pipeline and has been seeking a sponsor for the new Pipeline mobile site. Schwartzel has participated in the P-G's series of town-hall energy forums, which were underwritten by a local law firm. The natural-gas industry has provided no advertising support or partnership opportunities to Pipeline.
Publishing a topical website on a politically charged issue requires a balancing act for the newsroom.  "The problem with some of these topic sites is that they can make enemies," said Leonard, the site's supervising editor, "and we have to walk a fine line to avoid advocacy."
Indeed, after Pipeline developed more robust content, blogger Jim Russell said he moved from writing blog posts to contributing more often to Pipeline's Facebook page because it gave him "more freedom" to be involved as a citizen participant.  Serving as a Pipeline blogger "weighed on me," he said. "I didn't feel I could blog as aggressively as I would like."
Russell credits Pipeline's investigations and reporting with "getting the public up to speed in an information desert."
"They have contributed to the global narrative of fracking."