"I don't have the time to keep that thing going. It was a good idea."

– Dennis Anderson | Managing Editor, Lawrence Journal-World
The Lawrence Journal-World joined the Net-J project as an added starter only in early 2011 after J-Lab efforts to work with another news organization ended.
Ten months and three significant staff departures later, the Kansas News Network was left as "kind of an orphan," with no one in the news room having the bandwidth to champion it, said Managing Editor Dennis Anderson.
The effort was notable in that it was the only Net-J project that attempted to actually sell partner content – some for as little as $5 a story.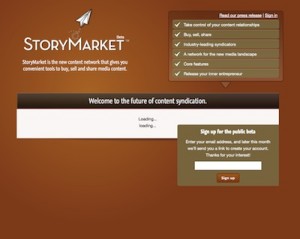 The vehicle for this was StoryMarket.com, a new content network launched in February 2011 by The World Co., the LJ-World's publisher and an industry leader in multimedia storytelling. StoryMarket was designed to help syndicators, publishers, freelancers and bloggers buy, sell or share content.
Initial efforts to create the project were led by Jane Stevens, The World's director of media strategies and her assistant, Jonathan Kealing.
They recruited four partners: the KansasCityKansan.com, covering Kansas City; PVPost.com, covering Prairie Village; GardnerEdge.com, covering Gardner, Kansas; and EudoraNews.com, which was a World Co. weekly newspaper turned into a website. Plans were to use a portion of the Net-J funds to create a fifth partner to cover Manhattan, Kansas. Added later was EudoraReporter.com, which covered an area that The World Co. had pulled back from; the Eudora News went inactive in January 2012.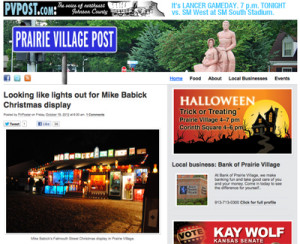 From the start, the partners wanted to create revenue opportunities. The World Co. wanted to "look at what it would take to layer in a regional ad network across the top of a content- and audience-sharing network," Kealing said.
One idea was to expand The World Co'.s successful gift certificate program to restaurants in partner communities. In this program restaurants gave the news organization gift certificates as payments for advertising. The company then resold those certificates at a discount to members of the community. This allowed businesses to pay for ads in trade and the news organization to turn that trade into cash.
By June 2011, participation from a couple of the partners had fallen off.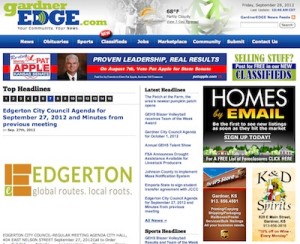 On Sept. 20, both Stevens and Kealing left the company. Kealing joined Public Radio International in Minneapolis. Stevens planned to start a network of health-related websites in northern California.
John Taylor, who was in charge of the company's community news sites, inherited the project. In October, he reported that "a big hurdle continues to be the hyperlocal nature of the sites involved," which limited opportunities for co-publishing the content.
The idea of an advertising network persisted. Taylor said the partners were studying such issues as:
Would it need a dedicated sales representative?
What kinds of advertisers would be targeted?
How would the revenue split work (based on page views, who made the sale or click-throughs to the advertiser?)
How would billing and collections be handled?
By January 2012, Taylor left to join the Las Vegas Sun. Soon after, The World Co. returned the funds targeted for creating the Manhattan site. "We began to look around and couldn't really find a partner in Manhattan. Then we decided it was too big a stretch to launch something," said Ralph Gage, the company's director of special projects. "I think we just found ourselves overextended."
StoryMarket.com died after a little more than a year. "We couldn't get traction on that," Anderson said. He said the company got a lot of interest from freelancers who wanted to be paid, but participating partners were not posting content to share.
"We put a lot of energy into StoryMarket," said Anderson, who is responsible for the company's weeklies, the daily newspaper, and its three websites. "But it was just one more thing [editors] had to do."
"I don't have the time to keep that thing going," he said. "It was a good idea."