"There was a mind block in the newsroom to put headlines on CharlotteObserver.com that would link to other sites. It took a long time for people to get their heads around that."

– Jennifer Rothacker | Innovations Editor, The Charlotte Observer
When The Charlotte Observer reached out for partners to join a Networked Journalism project, it didn't have to look very far.  Two former Observer journalists had launched two of the most robust, local-news start-ups.
QCityMetro.com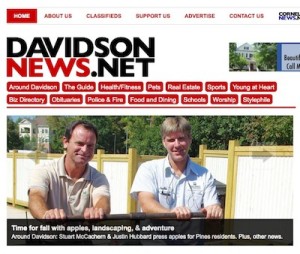 was started by the paper's former deputy managing editor, Glenn Burkins, to cover the Queen City's African-American community.  Burkins has deep reporting chops from stints as a foreign correspondent and a reporter for the Wall Street Journal and Philadelphia Inquirer. Former Observer reporter David Boraks founded DavidsonNews.net to cover the nearby college town of Davidson, N.C.
They could be trusted to produce good journalism and that was important. For, in no uncertain terms, The Observer was looking for free or cheap content for its print editions.  While most other Net-J partners shared links, The Observer was unique among Net-J partners in the structure and limits it placed around sharing full articles.
"The Observer wanted quality content to supplement our print and online news. Our partners sought training and The Observer's seal of approval," Alicia Roberts, the original project coordinator said in 2010. Roberts, a former metro editor for The State in Columbia, S.C., and Steve Gunn, then The Observer's editor for new products and innovations, launched the project with high-touch communications between partners, a training agenda, and lots of shared reports of who picked up whose stories.
At first, there was no home-page presence and little visibility for the network. The partners got credit for any of their stories that appeared in the newspaper or on its website, and they could republish up to four partner stories or photos a week (including Observer stories) on their own websites. But they got little additional web traffic from participating in the project.
By early 2011, the Charlotte Hyperlocal Group was re-branded the "Charlotte News Alliance" and finally got some sharp real estate on charlotteobserver.com that did drive traffic to partners. The alliance also suffered one divorce.
Davidson News' Boraks refused to re-up when presented with a new content agreement that allowed The Observer to continue using four of his stories or photos a week.
"The way it was working, the partners were providing free content to them," Boraks said in a February 2011 interview. "I don't need Observer press credentials. I don't need to brand myself as some sub-set of The Observer."
"Losing DavidsonNews.net was a loss," said Jennifer Rothacker, the paper's Innovations Editor, who took over the partnership in early 2011 after the funding for Alicia Roberts was spent. "Boraks is very successful. He saw no benefit – I get it – to partnering with us."
"But once the paper got the online component straightened out, I think Boraks would have gotten a lot of benefit," she said later.
Indeed, Boraks went on to launch a sister site, CorneliusNews.net, in a larger town nearby, and he has aspirations for more sites in other towns, including some that are the focus of The Observer's weekly Neighbors section.
In addition to chafing at providing free content to a much larger news outlet, Boraks said he wasn't registering much traffic to his site from The Observer.
Such outbound links initially were a high hurdle for the newspaper to overcome. "There was a mind block in the newsroom to put headlines on  charlotteobserver.com that would link to other sites. It took a long time for people to get their heads around that," Rothacker said. "Now people have accepted that it's OK."
Rothacker brought some new energy to the project when she took it on at the beginning of 2011. There are now about 18 partners still posting. More importantly, she also wrangled sizable real estate at the bottom of the newspaper's home page that includes a photo and five story links to partner stories.
"I made it clear that this had to happen for them," she said. "Partners generally get a 10 percent bump in traffic when they have a headline [on the home page] and record numbers when they get a photo."
She also added links to news produced by The Observer's own community news outlets, which weren't getting much online traffic.
Having the alliance on the home page as a brand made the partners "feel they are part of the group instead of us just using their content," Rothacker said.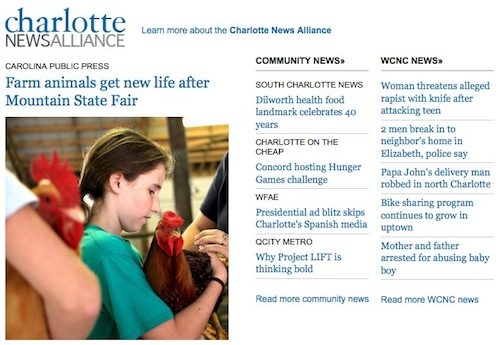 She also recruited some larger partners for the alliance, including WFAE 90.7 public radio and WCNC.com, the city's NBC affiliate.
"My philosophy was: Let's go for established names that can really add some heft for us so when people see the network, there are a lot of newsmakers there."
A portal page on charlottteobserver.com has RSS feeds of news stories from all the alliance's partners and community weeklies.
At mid-day, Rothacker uploads a new partner photo to the home page and at night she goes through the headlines on her Google Reader to refresh the homepage links. Whatever she posts on Thursday night stays through the weekend. She has also tried to continue training for alliance members on such subjects as fair use, search engine optimization, and photography.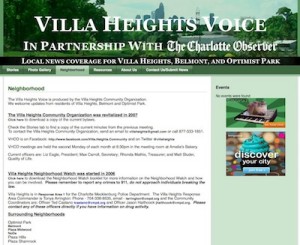 In addition to recruiting partners, Charlotte's Net-J project helped to seed two new sites. Villa Heights Voice, which was created to cover one of the city's mostly minority neighborhoods although it now primarily posts minutes of meetings. The other, HoodieCharlotte.com, was short-lived and is now defunct. And, like with the other Net-J partnerships, about four of the alliance's early partners have folded.
On a higher note, the Charlotte on the Cheap  blog has been so successful that author Jody Mace pens a Friday column for the newspaper on free stuff – for free. Also popular is the WXBradBlog, written by meteorologist Brad Panovich, which is a top referral site for charlotteobserver.com. Rothacker is happy that the Asheville-based Carolina Public Press joined the alliance, giving The Observer some ears in Western North Carolina it never had before.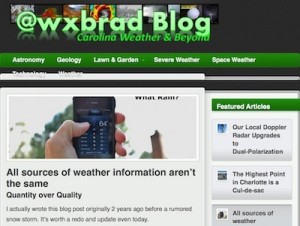 QCityMetro's Burkins is happy with the partnership arrangement and has provided The Observer with some significant trial and breaking-news coverage.
Boraks said he would be happy to revisit a partnership agreement in the future "but it has to be mutually beneficial."
Charlotte Observer Editor Rick Thames said the newspaper worked through tremendous concern about "preserving the brand" in participating in the project. He believes the agreement limiting the number of stories to be shared "seems to be as much as either site wants."
Longer term, he hopes the alliance could develop a system "where we could share some advertising."