The Oregonian News Network (ONN) grew from two parallel efforts: one focused on building an alliance of Net-J news partners and the other on building partnerships with about 50 community blogs.
One goal was to create a "big tent" for all kinds of news and information in the region. As of fall 2012, the network had about 48 partners and they had posted some 2,400 stories to the OregonLive.com website.
One of the program's biggest successes was improving the quality of independent journalism through a series of training sessions for its partners.
ONN produced this video, with partners discussing the project. (Scroll down the page to see the video.)
Updates
Project blog: www.theoregoniannewsnetwork.com
A column by The Oregonian's editor Peter Bhatia outlines the Networked Journalism project and possible partners for the Portland newspaper: "J-Lab seems to be a perfect partner for an effort such as this," writes blogger and partner Jeff Bunch.
April 20, 2011: The Oregonian announces another five new Oregonian News Network Pilot Partners after receiving over a dozen outstanding applications from around the state, reports project coordinator Cornelius Swart.  Many of the applicants have a strong record of covering their communities. Others are doing great watchdog reporting. The partners chosen have the right combination of business planning, relevant coverage areas and quality news reporting needed for this early stage of the program.  See the partners listed on the Local Partners tab.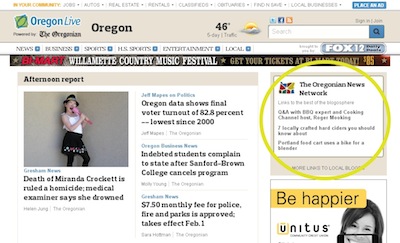 Dec. 5, 2012: The Oregonian News Network gets widget for the homepage that links directly to partner sites!