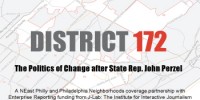 An examination of the revitalization of a commercial corridor in Northeast Philadelphia's Mayfair neighborhood and any ties to a local politician awaiting trial on corruption charges. By Neastphilly.com and Temple University's PhiladelphiaNeighborhoods.com.
January 2011 update, by George Miller:
Shannon MacDonald, the founder and editor of Neastphilly.com, will serve as the editor. The majority of the reporting of this story will be done by Temple University journalism students participating in the Philadelphia Neighborhoods course. Temple professor Chris Harper, co-director of the program, will also edit some of the work.
Because the awards were granted mid-semester, MacDonald was unable to tap into the student workforce. Students return from winter break in mid-January. MacDonald is hoping that monthly stories will begin in February.
The final product of the project will be a separate website with mapping technology, aggregating all of the stories (written, photo, audio/sound and video).
MacDonald said the project is something she had been considering for a long time but did not have the resources (time and/or money) to do.