Online News Association Conference & Awards Banquet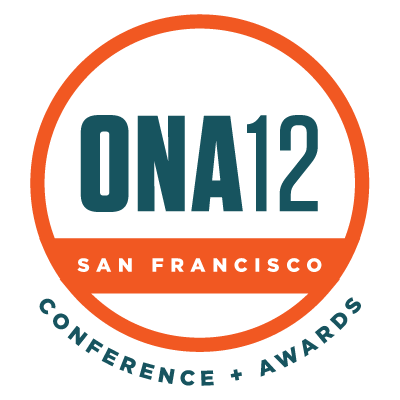 Thursday, Sept. 20, 2012 at the Hyatt Regency San Francisco
J-Lab for the fourth year in a row put on a pre-convention workshop at ONA bringing together experts on specific challenges confronting entrepreneurial news startups.  This half-day workshop was produced by J-Lab and funded by the Ethics and Excellence in Journalism Foundation. 
View the event on Sched.org.
View videos from the session.
---
Entrepreneuring 4.0
ONA pre-conference workshop
1 p.m.  to 5:30 p.m. Thursday,  Sept. 20.
Agenda:
1:00 – 2 p.m. The Art of the Close – Journalists are great at producing content and covering stories.  But ask them to sell an ad and they can't close the deal. But more and more news entrepreneurs are developing strategies and getting coaching in how to do it.
Speakers:
Howard Owens. The Batavian
Susan Mernit, Oakland Local
Ben Ilfeld, COO of Sacramento Press and Founder of AdGlue
2 – 2:40 p.m. Engaging Audiences – Just because you build it doesn't mean people will come. A new J-Lab/McCormick Foundation survey finds that online news startups can use social media tools to distribute content, market their sites and track users. But most say they cannot lasso data to track whether they are turning users into supporters who will help their sites survive.  This discussion looks at the four strata of engagement and successful engagement strategies.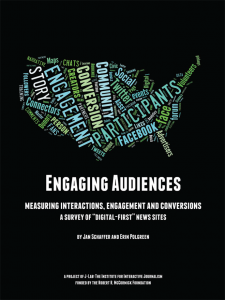 Speakers/Report Authors:
Jan Schaffer, J-Lab Director
Erin Polgreen, Symbolia comics journalism entrepreneur
Gaby Brink, Founder and Executive Creative Director,
Tomorrow Partners, and Creator of Sparkwi.se
3:00 – 3:45 p.m. Collaboration vs. Competition – When should a news startup partner with a mainstream news outlet? A look at collaboration models, do's and don'ts, guerrlla marketing.  With new results from nine Knight/J-lab funded Networked Journalism projects and copies of the report. 
Speakers:
Bob Payne, Seattle Times
Bruce Koon, KQED
Debbie Galant, Founder, Baristanet and Director New Media Initiatives, Montclair State.
3:45 – 4:30 p.m. The Rise of University News Startups  – J-Schools are launching news sites as outlets to teach students both reporting and entrepreneurship skills.  There are several models. 
Helene Goupil, acting editor, Mission Local, UC-Berkeley
Marc Cooper, Founder, Neon Tommy, USC Annenberg
4:30 – 5:15 p.m.  Entrepreneurial Pop-ups  – Presenters lend their expertise to individual entrepreneurs who are struggling with particular challenges.