By Jan Schaffer
J-Lab Director
Three black news-site founders unpacked how they juggled several demands to get their news startups up and running at an NABJ session last week for prospective news entrepreneurs.
One key was weathering a slow, steady buildup of their enterprises. Creating buzz with content that went viral helped disguise non-existent marketing budgets. And substituting new ideas for old ones that didn't work kept them in the game.
The three news-site founders said they not only confronted the typical challenges any entrepreneur faces, but particular challenges of being a black news entrepreneur.
Many blacks don't have entrepreneur role models, they said.Their families often don't have resources to back their startups as early investors. And they may place a higher value on traditional trappings of success that come with a job security and benefits, the speakers said.
Often they don't tap into the networks that would help them build teams. "Venture capitalists invest in teams, not ideas," said Michelle Ferrier, founder of LocalGrownNews.com in Greensboro, N.C.
"As minorities, we buckle down and get invested in what we do. It's so isolating that we miss out on the networks that could help us," she said.
Here's a recap of their experience and advice.
QCityMetro.com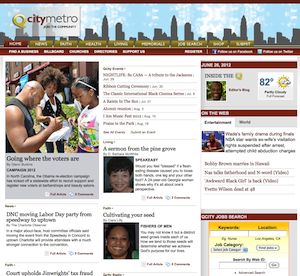 Glenn Burkins launched QCityMetro.com in 2008 to cover the African-American community in Charlotte, the "Queen City." 
By June 2012, he had registered slow but steady growth: The site has more than 60,000 unique visitors a month and brings in more than $100,000 a year in revenue.  He hopes to double that revenue by next year.
Rather than depending on selling banner ads, he's had luck finding companies to sponsor content.  BlueCross BlueShield, for instance, is the primary sponsor of the site's health news page.
Other revenues that support him, two part-timers and several freelancers, comes from:
A summer camp directory.
Ads on the e-newsletter.
An Amazon.com page, where users can go and buy things.
And some national ads sold by a California ad agency
He has a robust content partnershp with The Charlotte Observer; each news outlet can use up to four stories a week from each other.
And he reports being "inundated" with calls from people in the community wanting the site to cover their events.
He had saved three years of income before quitting his job at The Observer to launch the site and it's taken about that long "just to get to the floor of sustainability," he said.
An ongoing challenge is bringing home the bucks from the $30,000 in outstanding invoices he has.
DominionofNewYork.com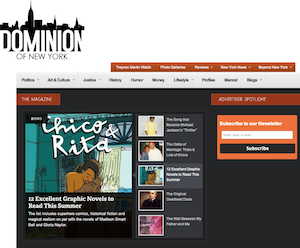 Kelly Virella, former deputy editor of City Limits magazine , estimates she has spent $10,000 since she launched DominionofNewYork.com in 2011.
With local, national and international content, she leverages social media, which generates about 70 percent of the site's traffic, and content partnerships with HuffingtonPost and Nation Institute's Investigative Fund  to generate buzz and awareness. Virella also gets some attention from her participation in New York City radio shows. Early stories on the Trayvon Martin killing resulted in content that went viral.
Kelly says she is producing 70 percent of the site's content herself but is looking for freelancers who want to report, not just blog, as well as a marketing partner.
Current aspirations look different from her original business plan, she said.
She's now looking to generate revenue from advertising, subscriptions, events and book sales, she said.
LocallyGrownNews.com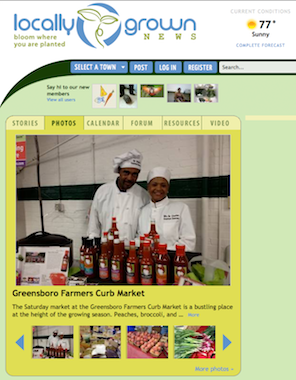 Three years after LocallyGrownNews.com went live in April 2010, founder Michelle Ferrier, an associate professor at Elon University in North Carolina and a winner of a J-Lab New Media Women Entrepreneurs award, says, "I am going back to a print model."

By that, she doesn't mean a newspaper.  Rather she plans to distribute small decks of advertising cards with content and coupons at local farmers markets and retail outlets, soliciting vendors to buy into spreading their message via the cards.

She hopes to seed other Locally Grown sites around the country with a ready-made content management system, evergreen locavore content and some easy revenue.

Black entrepreneurs, she said, face challenges from both "pattern matching" and "stereotype threats."

Startup investors often evaluate prospects based on what has been previously successful, looking at such things as personality types, alma maters or track record.  Often successful patterns emerge from white computer-science grads of top schools. It's hard for black entrepreneurs to match these favored patterns, Ferrier said.

Blacks may also suffer from a psychological phenonmenon, known as stereotype threat.  Ferrier said this could surface in situations where a negative stereotype might be present about a social group and that stereotype actually creates anxiety or reduces performance in a member of that group.

Further challenging black entrepreneurs, Ferrier said, are advertisers who may "undervalue" African-American audiences.

NABJ, New Orleans, June 21, 2012