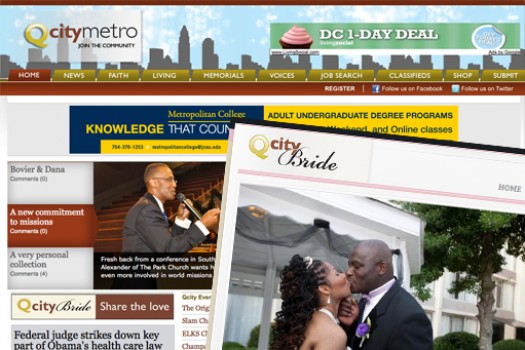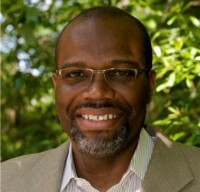 Glenn Burkins has an impressive journalism background: In a previous life he was deputy managing editor at the Charlotte Observer, White House correspondent for the Wall Street Journal, and foreign correspondent for the Philadelphia Inquirer.
Now he now runs two community news sites specifically designed to reach African-American readers in Charlotte: QCityMetro.com, which he launched in December 2008, and QCityBride.com, launched in mid-2010.  Both allow him to cover his community in a fundamentally different way. And he has plans for more.
In all his time in large newsrooms, something struck him:  The papers wrote about the local African-American community in a fundamentally different way.  For example, when mentioning a particular mega church, editors often added a comma and a descriptor: the largest African-American church in the community.  At the same time, editors did not add a line after the name of a large, historically white church.  That difference, Burkins believed, gave readers a hint at the paper's intended audience.
It wasn't just historically black institutions.  Instead of writing John Smith, a 23-year-old man, was shot and killed in West Charlotte, the lead on Burkins' story may be less formal, like Johnny Smith was shot and killed.
"Those subtle things are telling readers that they're not writing for you.  And on QCityMetro.com, I don't have to explain what Friendship Baptist Church is."  The roughly 27,000 people a month who read QCityMetro.com know the church well.
Race Matters
Burkins considers race a natural niche for an entrepreneurial news site. With his QCity sites [Charlotte is nicknamed "Queen City" after the German Princess Charlotte], he's trying to segment the market, even within hyperlocal news, to create a financially viable business opportunity.
"I say that unapologetically on one hand, a little shame-faced on the other because I'm a person who believes that at the end of the day, I would like to see people come together, and I think what I'm doing, and the industry in general, is fragmenting society," he said.
"I believe that race is still the defining characteristic in our society. And in many ways, as an African-American, my race means more to me and says more about me and defines me than my white address."
Look no further than churches on a Sunday morning, he points out.  Churches are still segregated, even though in many other respects communities are more integrated.  People return to familiar surroundings, particularly within a minority group, says Burkins.  And that's one clue to the strategy for his news startups.
"I believe that race is still the defining characteristic in our society. And in many ways, as an African-American, my race means more to me and says more about me and defines me than my white address," he said.
Burkins is clear not to fault the Observer, Charlotte's daily newspaper, for how it covers issues in diverse neighborhoods.  "I was deputy managing editor there, I know they tried hard," he said. Indeed, he quit his traditional news job to start his new site.  In fact, he points out, they have more content about the city's black community on any given day than QCityMetro does, just because the sheer size of its staff.
But he recognizes how certain stories mean more in the African-American community in a way that the Charlotte Observer might not be able to appreciate.  And that influences his approach to writing and his aspirations for his new business.
Adding Brides and Businesses
After QCityMetro.com had been up and running for about a year, Burkins had another idea. 
He took basic demographic details he knew about his readers:  Roughly nine out of every 10 are African-American, just over half are women, and the average age is 40.
And he combined that with his observation that the faces of brides on other websites, even general wedding sites, were generally white, not black. 
Putting those facts together, he figured readers would welcome a chance to share wedding photographs and vendor recommendations, while the businesses, he presumed, would pay to reach an African-American audience. 
With that, he launched QCityBride.com in the summer of 2010. Less than six months later, he had 5,000 monthly unique visitors.
Burkins was also listening when people in the community began asking: "Where can I find a black doctor, or a good black roofer, or a good black handyman who can do some work?" 
That prompted him to build a directory of black businesses, where advertisements range from a two-week text ad for $15, to a yearlong message with a photo for $275.  A financial coach, hair stylist and black-owned bakery are among the first sponsors.
"It's an online yellow pages, a 'black pages', if you will," he said.
By the end of 2010, he was starting to turn a profit, though had not started taking a salary.
Still Growing
At one point, Burkins planned to expand the idea of black-centric local sites to other cities with robust African-American communities. 
"I don't think it would necessarily work everywhere.  What I like about Charlotte is it's 31 percent African-American, compared to 12 percent nationally.  I don't know if I would try this in Dallas or Philadelphia because there's so much noise," he said of the competitive landscape.  "I could do this [here] and make a splash."
"We want to have a different tone, a more familiar tone."
He says he's too old now for the adventure of moving around to get these off the ground.  And what's more, he's focused on other specific topics within his niche community. 
By the end of 2011, he plans to launch a site focused on nightlife and entertainment.  Rather than mix stories into QCityMetro.com, where he may risk alienating his existing, substantially older audience, Burkins plans to build a new site around that content.  The downside, he fears, is that it may pull him in too many directions.
It is Burkins' hope that the sites become institutions, in the same way that newspapers have served broader communities.  He desires success "not to the exclusion of others, but something we can call our own. We want to have a different tone, a more familiar tone."