Welcome and Overview
J-Lab's Executive Director Jan Schaffer gave a quick tour through the ever-expanding world of citizen media and summarized the findings of her recent report Citizen Media: Fad or the Future of News?  Schaffer defined cit-media as a "bridge media," sites that fuse news with civic participation, news and schmooze. Schaffer explained that the metrics for this bridge media are also different: site producers care more about community impact than audience share, page views or profits.
"What do we mean by impact?" asked Schaffer. "Since The Forum launched in New Hampshire, they've seen a huge increase in voter turnout. Their site now has over 200 hundred contributors posting 37 stories a week. The MSM is waking up."
Schaffer called citizen media "high-touch initiatives" that require lots of community recruitment, training and support. Many of these projects have very democratic governance structures, local sponsors and make use of guerrilla marketing tactics.
CitMedia Ventures as Learning Laboratories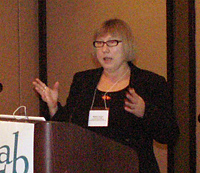 In a city where many feel that nothing good happens when journalists show up, Barb Iverson's Creating Community Connections aims to build trust by covering issues largely ignored by the big media in town. The project takes journalism students from Columbia College Chicago and embeds them in neighborhoods to find out what's going on and report it.
"I have to know the neighborhoods when I reach out," said Iverson, "so, I take our students on field trips. We get on public transportation; we visit Boys and Girls Clubs and eat at local restaurants.  Kids nowadays grow up in gated communities and they don't know neighborhoods."
CreatingCommunityConnections' masthead pulls in photos of Chicago posted on Flickr.  People are permitted to post to the site without advance registration. "Our purpose is to inform, entertain, connect, especially across physical boundaries. We want people from different neighborhoods to discover that they have some of the same concerns and can join to do something about it."
Some successes include an investigative series about Chicago Aldermen who hire their relatives. For that project, Iverson reached out to partner with the Beachwood Reporter, a collaboration that helped drive traffic to both sites.  Another success was a slide show of photos citizens posted from a city-wide late-night bike ride.
Iverson encouraged the group to re-think the term citizen journalists.  "Are journalists not citizens?  Do we lose our citizenship when we become journalists? Plus, not all of my students are in fact citizens. We are casting around for a word. 'Indigenous' postings is what I'm now hearing."
---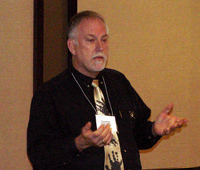 At the University of Missouri, Clyde Bentley launched MyMissourian, a challenge to tradition at a school that prides itself on being the home school for the newspaper industry. "Some faculty said you're going to ruin journalism. They questioned our ability to maintain credibility."  But Bentley said his site set up some basic rules for citizen participation and for the most part, people do comply.
After publishing online,  MyMissourian adopted a hybrid strategy. It uses online to drive readers to the print publication, because "that's where baby boomers are most comfortable and, that's where all the space is for advertising." The tabloid gets delivered to homes on weekends.
Bentley is a member of  the Cyberbrains, a group of Missouri scholars researching the impact of citizen journalism on free circulation papers.  But they could easily be studying the impact of print publication on Web sites. Within a month of going to print, MyMissourian.com more than doubled its number of registered writers.
"There is no field of dreams," said Bentley, "Successful citizen journalism requires hard work from trained journalists. I have reporters helping people, vetting for libel, editing for readability.  Our assistant city editor is the one who pushes the button to upload."
MyMissourian also publishes photos posted on Flickr (with permission) and has recruited local bloggers to share their content. 
Bentley said you can't wait for stuff to come to you.  You have to go out and make it happen.  "I found out that this local bluegrass band got a grant to go to China.  I gave them an old computer, set them up a blog and a Flickr account.  They sent me emails and I posted all of their material. We got incredible readership on this thing and we all saw more of China than we ever would."
Another partnership is the work is a project called, "My First Ward." A graduate student gave digital cameras to students in a historically black community.  The kids now blog about hip-hop music and readers love it.
Bentley also partnered with the local Fox TV channel to publish political essays, written by students in his Editorial – strike that –  Blog-writing class.  As a result, his students are now getting national bylines.
Bentley said he's spent a total of $1500 on the site. It's clear that creativity, student labor and citizen participation are an invaluable combination. The equation is simple, said Bentley, "Traditional journalism plus citizen journalism equals 21st century journalism."
Filling in the Gaps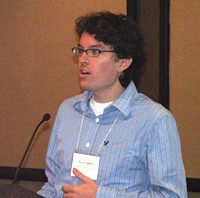 Rob Goodspeed founded several dynamic hyperlocal sites ArborUpdate, DCist, RethinkCollegePark. All are essentially blogs. Although Goodspeed got us giggling with his reading of the urban dictionary definition of a blog as "a meandering, blatantly uninteresting online diary that gives the author the illusion that people are interested in their stupid, pathetic life," he reminded us of the raw power of this self-publishing tool. Technorati tracks over 108 million blogs and the number of blogs increases at a rate of 175,000 a day.
A blogger graduating from the University of Michigan, Goodspeed recruited "10 diverse contributors to form an editorial collective to do civic-oriented news and then I checked out and left. ArborUpdate is strong and has become an important civic hub." Goodspeed said the most significant thing about the site is the comments, "It's a better conversation than happens at town hall meeting." The site has gotten up to 1,000 unique hits a day. 
When Goodspeed moved to the nation's capital, he proposed to the NYC placeblog called Gothamist to expand south. Within two years, DCist went from 0 to 10,000 visitors a day and became self-supporting.
Now, as a graduate student in urban planning at the University of Maryland, Goodspeed teamed up to create RethinkCollegePark, an "advocacy planning" site that bridges the on and off-campus communities, bringing together the various factions/parties interested in the future of the town:  university administration, the student body, city residents, county and state government officials.  Said Goodspeed, "It's a go-to resource for the 27,000 residents of College Park.  It's primarily pictures and text and maps. A City Council member even wanted to announce his candidacy on our site.  We're engaging in a meaningful way."
The total cost: $12.95 a month for web hosting.  Time spent:  zero to several hours a day, depending on exams.
---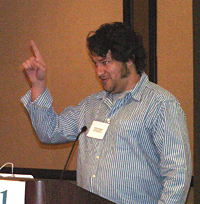 Former Tribune journalist Geoff Dougherty launched ChiTownDailyNews, which he calls a non-profit, hyperlocal, pro-am (professional-amateur) community Web site. "Our goal is to give people the information they need to participate in city life.  We cover Chicago xenophobically. If it happens two blocks across the line in Evanston, we just don't cover it."
A recent recipient of a prestigious Knight News Challenge grant, Doughtery hopes to expand the site and realize his vision of recruiting one citizen journalist in each of Chicago's 75 neighborhoods. To make this happen, Dougherty has hired a community organizer whose job it is to go out to school, churches, neighborhood associations to make connections and pitch to correspondents.
There are no paid reporters on staff.  Instead, the ChiTownDailyNewsroom is fueled by interns who pay attention to what's not being reported in the mainstream media. "It's yielded some great stuff," said Doughtery, "like coverage of community policing and the Chicago Housing Authority."  Local is the mantra; on the day of the Minnesota bridge collapse, the front page of the Tribune was all over that major national story, but "our site was just Chicago Chicago Chicago."
ChiTownDailyNews' is aiming to reach people who no longer read newspapers and its readership has been growing about 20 percent each month. The site's budget this year is $160,000.
Said Dougherty, "We're nonprofit. We don't want to become the next Google.  We've had conversations with people about changing the business model, to monetize this, but I'm glad we said no to Backfence.com.  We're still here and they're not.  It seemed like a bad decision at the time, but now it seems brilliant."
The View from the Mainstream Media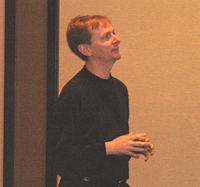 Washingtonpost.Newsweek Interactive's Rob Curley makes a compelling case for the professional news industry to go back to basics and embrace the new realities of the digital marketplace.
"The Washington Post has 800 journalists on staff. The local television station has only 30.  How come they were kicking our butts online?  Because if a church is burning down, we put up a four-minute documentary reflecting on the history and meaning of the institution in the community and the TV station just posts footage of the flames."
The point of the story? Multi-media is a must. Good journalism is both show and tell. Curley said if newspapers want to win the war for people's attention, they'll have to use new technologies like database-driven coverage, video storytelling, evergreen content and platform-independent delivery. "Your content has to be designed to work on any device, from large screen TV to iPhone."
Curley said newspaper editors need to change their thinking, too. "This is a dialogue, not a monologue.  Many editors tell me they're just not comfortable with comments on their site, and I just think I'm glad I don't work for you. We're are all going to have to get comfortable with having a seat at the table and not at the head of the table."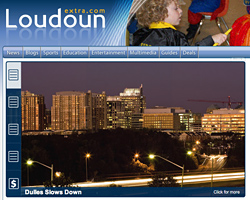 Curley talked about some of the innovative sites he's helped launch at the Washington Post, from the simple, yet powerful narratives of onBeing, to the highly interactive info-rich LoudounExtra.  This new WaPo hyperlocal venture covers county fairs and proms with Pulitzer Prize intensity. "We cover kindergarten like it's Capitol Hill," said Curley.  When AOL [one of the county's largest employers] announced it was moving it's executives from Virginia to New York City, Curley's team pulled together a definitive page about the company, including links to every article the Post ever wrote, every blog entry, a timeline and financial history. Although Curley acknowledged that with all of the bells and whistles on LoudounExtra, it's the blogger (Living in Loco) who attracts the most number of visits.
Curley added that newspapers can't ignore importance of social networking.  "The fastest growing local community Web site in your hometown is Facebook. I use Facebook 10 times a day. I love it!  Facebook gets one million new users a month.  WashingtonPost.com is one of 10 most visited Web sites in United States with 300 million page views a month.  But Facebook gets 40 billion page views a month. They get more traffic on the first day than we're going to get for a whole month.  And the average person spends an hour on Facebook, but the average washingtonpost.com visitor:  just three page views."
So, Curley said that news Web sites have to work the way the internet works.  He shared an epiphany his team had a few months ago. "How many of you who take video of a parade and publish it on your site? No, you put it up on YouTube. Most people post to Facebook and flickr.  So we wrote a program to go to those sites and find all Loudoun contributed content, our editor previews it and we link to the citizen-generated material that way."
Rob Curley's final word? "Widgets." He said these little freestanding programs that run on your desktop are the next big thing in online interactivity, and journalists should be thinking about how to use them.