"They strengthen us, we strengthen them. We are utterly interdependent."
Since mid-2011, KPBS Public Broadcasting in San Diego has started a 6:30 p.m. television newscast, added another at 5 p.m., moved to an all-news radio format – and invited a four-year-old investigative news start-up to move into its newsroom. Now KPBS and inewsource.org are planning enterprise coverage together, training each other's journalists in news skills and jointly raising money to add more hard-news reporting firepower.
"They strengthen us, we strengthen them. We are utterly interdependent," said Suzanne Marmion, KPBS's director of news and editorial strategy. "We've had a lot of different partnerships in the three years I've been here. How do you make that stick? You embed them."
Lorie Hearn, inewsource founder and a former San Diego Union-Tribune top editor, likes the fact that her reporters' work is "intertwined" without being fully merged with KPBS. The public media outlet gets the first right of refusal on all inewsource reports and she is free to work with other media organizations in the region.  "KPBS is pretty agnostic about competition," she said.
"It's been a huge win for us," said Tom Karlo, KPBS general manager. He sees KPBS's arrangement with inewsource as part of his efforts to find "a new vision and purpose in our community" and to deploy all of KPBS's assets – radio, television, web, mobile – in pursuit of holding the community accountable.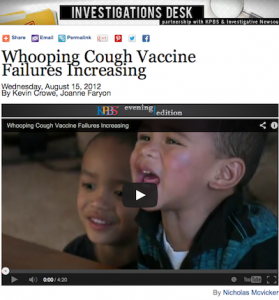 To that end, the two news outlets broke a major report signaling deficiencies in whooping cough vaccine amid a pertussis epidemic. They created a searchable online database to let the public learn whether they are paying an additional California real estate tax imposed on property owners in certain development districts. And they revealed the local newspaper's substantial political and financial ties to local politicians in the November 2012 election.
Adding some urgency to their efforts is the fact that the relatively new owner of the city's daily newspaper, now called U-T San Diego, has been transparent about using the paper to more openly promote politically conservative causes. And the U-T recently gobbled up the North County Times, which was based in Escondido.
They are "leaving the door wide open" for us to be a one-stop shop for local, regional and national news, Karlo said.  Indeed, KPBS radio has recently expanded its North County bureau, adding two reporters and new equipment.
Karlo said he began talking with Hearn soon after she launched her investigative reporting site. "It took us a while to figure out what the partnership would be," he said. And it took Hearn some time to figure out her niche. She started out offering data-based stories to news outlets, working from a tiny office at San Diego State's School of Journalism & Media Studies.
Things came together towards the fall of 2011 with the launch of KPBS's evening  newscast. "I said why don't we form a joint investigations desk?" Hearn said.
Around the same time, she said a local philanthropist reached out with concerns about the daily newspaper.  "When he learned of the relationship with KPBS, we both met with him with a joint plan," she said.  The result was three years of funding to add another inewsource reporter plus an investigative producer for KPBS.
"One of the things I really wanted to do was expand investigative reporting," Karlo said.  "That's traditionally done in the print world." 
KPBS's Marmion said inewsource's move into the newsroom has changed the culture of both organizations. "They were a pretty legacy news organization, super smart, but absolutely clueless as to telling a good radio feature … At this point, they are all broadcast storytellers."
KPBS is rotating its best reporters to work with inewsource staffers to learn how to do FOIA requests and run data in Excel spreadsheets. "We're trying to get our reporters a little more accountability-driven," Marmion said. KPBS also joined IRE (Investigative Reporters and Editors) and went to its 2013 convention to keep "sharpening the tip of the spear."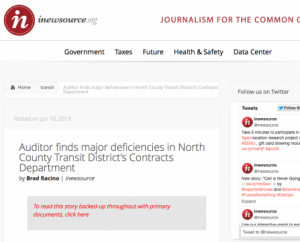 Marmion has noticed that Hearn hires differently now.  Instead of going just for data reporters, "she is looking for people who have multimedia experience or have the potential [to learn]," she said.  She also credited Hearn with embracing KPBS's convergence philosophy: A reporter who does an investigative story should do it on all platforms and "not hand it off to a producer."
In addition to putting Hearn's reporters on the air, KPBS now assigns a videographer to go out on inewsource stories, and teaches the site's reporters how to shoot and edit video.
"They need us for the story distribution and broadcasting experience, it gives their journalism more impact," Marmion said.
At the same time, KPBS partners with other news outlets. It has been funded to share a reporter with Voice of San Diego to cover the diverse City Heights neighborhood.  It collaborates with local Patch.com sites, and it works with the city's largest Hispanic newspaper, El Latino, which translates its stories into Spanish. KPBS uses a vendor, Publish 2, to make it easier to share news stories.
Why doesn't inewsource just merge with KPBS, as I-News Network has with Rocky Mountain PBS in Denver and the St. Louis Beacon is trying to do with St. Louis Public Radio?
"I started this endeavor at great risk some three and a half years ago because I really believe in investigative journalism. I feel very bullish about that mission," Hearn said. "Public broadcasting has a very laudable mission, but it's much broader than investigative journalism."  She said she doesn't want to risk her mission being eroded if budgets got tight in future years.
Marmion sees value in inewsource having an independent identity.  For one, Hearn is spearheading some reporting around possible harassment of KPBS staffers by a public official. "It's sort of useful in that situation to have another entity look at that and validate it."
While both Hearn and Karlo envision more joint fundraising in the future, Hearn is also planning a membership campaign and earned income from training workshops.
Both, however, agree on one goal:  Find the stories that will make an impact, Karlo said, and the community will value us.