For those who live in the Blue Ridge Mountains of North Carolina, one website working on a micro budget, is doing the hard work of in-depth reporting – not only for the region, but for the state's other news outlets as well.
CarolinaPublicPress.org, (CPP) launched in March 2011 by former Asheville Citizen-Times reporter Angie Newsome, spearheads investigations, trains journalists from around the state, and shares content across the board with any news organization that wants it.
"Her website is invaluable to people in western North Carolina," said Bryan Luhn, assistant news director for WLOS  News 13, the ABC affiliate based in Asheville.
"[Carolina Public Press is] doing the hard work of regional reporting – the kinds of things that have statewide impact."
In return for substantive, reliable stories, both public and commercial media outlets are serving, in effect, as the guerrilla marketing arm for CPP, providing a megaphone for its journalism; to a lesser degree, a traffic driver to the website; and the visibility that might help ensure that the site lives on.
"They ARE the press out there," said Frank Stasio, host of The State of Things on WUNC 91.5, North Carolina Public Radio based in Chapel Hill. "They are doing the hard work of regional reporting – the kinds of things that have statewide impact."
So when nearly six million gallons of raw sewage was spilled into the French Broad River in April 2013, Carolina Public Press not only covered the breaking news but could also point to its special investigation 10 months earlier shining a spotlight on illegal discharges of wastewater into the river.  Other news organizations, including WLOS, "took our report and credited us," Newsome said.  "That is validation."
"We are doing a lot of two-way interviews with their reporters on things we find of interest," said David Hurand, news director of WCQS-FM, the local community public radio station.  It's an informal, "personal handshake" partnership, based "on my personal respect for Angie," he said. 
As the only full-time employee in the station's news department, Hurand says CPP content is key.  "We cover 11 to 12 counties. There's no way a station as small as we are can cover that area."
Stasio says he regularly reaches out to CPP. "I make it a point to remind listeners of what Carolina Public Press is and how it does its work. It's the hard work of journalism." He points out that data coverage is very hard on radio. He seeks to marry his brand and market penetration with interviewing CPP's data journalists on the air, then say, "For the details, go to this website."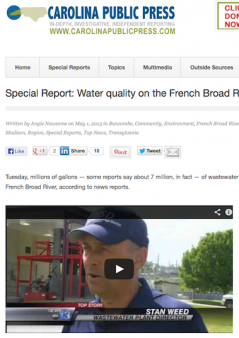 WLOS's Luhn said, "I approached Angie with the concept that we' d do a broadcast of their stories and send people back to their website. They'd get more visibility. We would get better content than we could devote resources to."
He has since hired an investigative reporter so CPP can post WLOS reports, "so now it's a two-way street," he said.
Newsome said most of her content-sharing agreements are verbal. "Any news organizations that want to use our [stories] can republish it as is or edit it to fit their style." If they want to publish photos, they must get prior approval.
Her reporters regularly do sit-down interviews for broadcasters throughout the state and the stations have begun offering audio and video to CPP although the site isn't able to use all of it.
She has spent the past year bringing in $65,000, applying for nonprofit status and doing a lot of organizational development work around generating revenue, developing a board of directors and creating a daily headline email.  "That's been an easy way to pick up on us," she said.
Still, all of CPP's media partners worry about the site's sustainability. "I think what we're trying to do is give her a higher profile," Luhn said.
Meanwhile, Newsome has also produced a series of training workshops on public records and open data in three locations around the state that many of her partners have attended.
Newsome isn't prepared yet to entertain more formal partnership proposals. "People are very interested in partnering with us in more ways," she said. "I just have to figure out our capacity."