In New Orleans' topsy-turvy world of journalism, where alliances shift, talent is raided and a newspaper war is blossoming, WWNO public radio for the past year has steered a determined course. 
Informed by research and bolstered by a sense of opportunity, it is erecting, piece by piece, the components for an all-news format, complete with its first news director, hired in February 2013.
"WWNO has never had a news department or news director in its 40-year history," said Paul Maassen, general manager of WWNO, which serves about 1.5 million people in New Orleans and 11 parishes in Southeast Louisiana. By moving WWNO's jazz and classical music offerings to digital channels, Maassen created the window to do more news and features – what his audience said they wanted.  Now, he is looking to add more local news and information.
"I said, 'All right, we need to be working towards this,'" Maassen said. "Do you bring in a news director and three reporters?" he asked. "We didn't have the money to do that. We had to work with partnerships."
"I am trying to raise the profile of nonprofit, independent journalism."
Propelled by a $102,000 Knight grant awarded in July 2012, WWNO cut deals with NolaVie, a two-year-old arts and culture start-up, the Greater New Orleans Community Data Center, and The Lens, an investigative news nonprofit launched in 2009 that anted up $10,000 to help match the Knight funding.
Now, NolaVie turns its content into three WWNO features a week with Knight funds helping to pay freelancers. The Lens, known for groundbreaking, crowd-sourced charter-school coverage, has held school-board election forums with WWNO, shared its enterprise stories and participates in reporter de-briefs with the station. It is about to hire a producer-in-residence, embedded at The Lens, to help inject audio life into its many data-driven stories.
Paul Maassen"What has come out of this has been a very collaborative-driven approach to news in a city," Maassen said. "What's different here is that we are doing it as the fiber of how we develop this news department, instead of: Here's a news department, let's add some partnerships."
The Knight grant was awarded a little more than a month after the [New Orleans] Times-Picayune announced that it was following in the footsteps of some of its sister papers. It cut its news staff in half, reduced print publication to three days a week and put more emphasis on its website, Nola.com. A communitywide outcry fueled a flurry of media activities and the launch of a New Orleans edition by The [Baton Rouge] Advocate. By the spring of 2013, the Times-Picayune announced a return to daily publication, although with a smaller tabloid three days a week.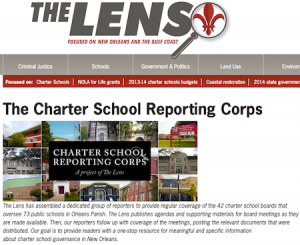 "It just kind of underscored what we were doing," Maassen said. Shortly after, he announced plans to build a nonprofit newsroom to be called NewOrleansReporter.org.  But WWNO soon pivoted. A revised plan sought to "avoid duplication and build on existing resources" and opted instead for an expanded partnership with The Lens to cover government, education, crime and flood issues.  WWNO will do general assignment reporting and NolaVie will contribute arts and culture. "It's a thing where everyone does what they do best," he said.
"NPR was working closely with them on that," said Russell Lewis, NPR's Southern bureau chief and a Katrina reporter, now based in Birmingham, Ala. Lewis, who has been helping WWNO with the transition, said he had not seen this kind of collaboration anywhere else. NPR is also helping to convert the station's website into more than a programming grid, Maassen said.
"We see our role in this not as just a content developer, but as a catalyst," Maassen said. "I am trying to raise the profile of nonprofit, independent journalism. I am saying this is valuable and it should happen. Because of the situation here in New Orleans, it's being paid attention to – to a degree that it's not in other communities."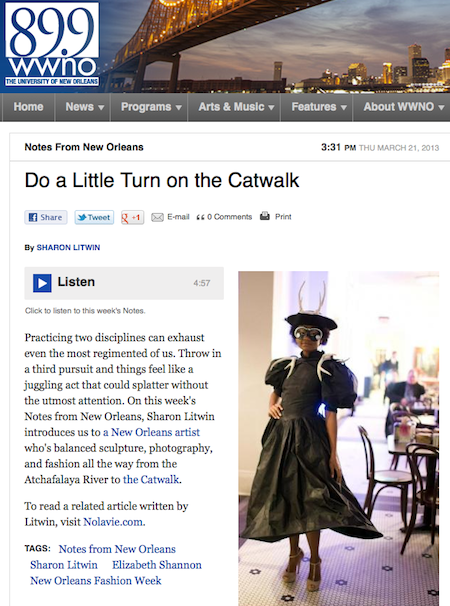 Editors at both WWNO's partner start-ups are former Times-Picayune journalists. They subscribe to what Steve Beatty, Lens editor and long-time investigative journalist, called a "write-one/publish-many" model of distribution. In addition to working with WWNO, their stories can appear on Nola.com; in The Advocate, whose new owner has moved aggressively into the New Orleans market; on the air of television partners; or on the websites of the four-member New Orleans Digital Alliance. The Lens rents space in the newsroom of WVUE Fox8, the Fox affiliate, another partner. (NolaVie got its early start with a J-Lab grant.)
"We may do six stories a week," Beatty said. "There have been days when I've seen our stories published in four different media."
The partners see these arrangements as win-wins. The emerging attitude among nonprofit news start-ups is that "it's better to be ubiquitous than syndicated." Impact and awareness, they say, trumps click-throughs on their websites. "We want to be able to tell our funders: If it were not for your money, this problem would not be solved," Beatty said.
 Airtime, in particular, really builds their brands: "We want people to hear The Lens on the air," he said.
Renee PeckFor NolaVie, the WWNO partnership means "we take our reporters and our copy and work with WWNO producers to turn them into on-air segments," co-founder Renee Peck said. It's a learning curve for the print reporters. They must be mindful to avoid what Beatty calls "those kind of small, head-slapping things" like saying a-huh during an interview or drumming fingers on a table.
 In February 2013, Maassen hired news director Eve Troeh a Marketplace reporter, who had earlier stints as a New Orleans reporter and producer.  She now must weigh when to do an interview and when to do a highly produced feature, with all the scenes and sounds that are public radio's hallmarks.
"When you start creating more local content, the audience expects that content to be better," she said. She's working hard to marry the station's audio tech skills with journalism skills.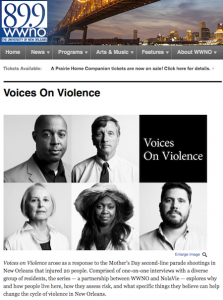 In June, she worked with NolaVie to produce "Voices on Violence" in response to the city's Mother's Day shootings that injured 20 people. In one-on-one interviews, people were taped talking about how they experienced violence in the city. NolaVie, in addition to the podcast, also rendered the interviews as Q&As.
Troeh takes heart that the station in June raised a third more than expected in a one-day mini-campaign for local-news funding. "We're getting close to getting enough content, and it's good enough, where we feel we need to create space for it," she said, in addition to the local-news cutaways in the national programs.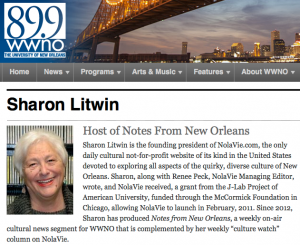 "It feels like we are really pioneering this in a way," Peck said. "The overall product is very good for the community." NolaVie launched in 2009 with a formal partnership with Nola.com but found WWNO's overture appealing. The site's other co-founder, nonprofit executive Sharon Litwin, had reported for BBC radio earlier in her career and now does regular Notes from New Orleans radio stories for WWNO.
In any partnership, Peck said, "What you try to police is that you get your credit for the story and links back." Increasingly, however, NolaVie's founders want to engage its stakeholders in a four-to-five minute story rather than posting its content on a partner site that wants "people to drop in for just a nano-second" so they can count the traffic. 
Maassen said he thinks communities will increasingly lean on public media and radio stations to get their news. "I think we should be prepared to respond. We should recognize that as an important part of what we do as service to our communities."
"Perhaps what we are doing here other communities could adopt."