Publication Date:
April 19, 2012
Authors:
Jan Schaffer
Formats Available:
hard copy, pdf
What people are saying:
"We're not a fan of the many breathless reports and studies on hyperlocal these days, but this one is based in reality and worth the time to read."
– Cory Bergman
---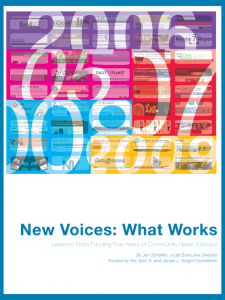 Through 2010, J-Lab's New Voices grants have been awarded to 55 local news projects from a pool of 1,433 applicants. All were required either to have nonprofit status or a fiscal agent. This report examines the outcomes of the 46 projects that were launched with New Voices funding from mid-2005 through mid-2010. Nine additional grantees, announced in May 2010,will be debuting their sites over the next 10 months.
Simply put, we examined what worked and what didn't, what made for robust sites or led to disappointment. We offer tips to help other startups and recommendations for Knight and other foundations based on what J-Lab has learned in mentoring these startups.