"If you do hyperlocal, be realistic about how often someone wants to write about something."

– Suzanne Levinson | Director of Site Operations, The Miami Herald
From the very start, The Miami Herald baked advertising opportunities into its Community News Partners project.
In some respects, this was easier to do than at the other Net-J sites because The Herald elected to have its parent company, McClatchy, develop a common web platform and content management system that all the partners could use to post and share content. Even if the partners had their own websites, they needed to post stories and links on their "channel" on MiamiHerald.com.
The Miami Net-J project was the only pilot site that required partner links and stories to appear on discrete partner pages inside the newspaper's website.

In addition to links to the latest stories, each partner page provided two ad spots that partners could sell – and retain all the revenue – and a couple spots The Herald could sell.
"We emphasized with our partners that we were not posting content and were not selling ads," said Suzanne Levinson, then The Herald's director of site operations. "We felt like we gave them the store: 'You get 100 percent of the revenue on this.' "
But despite a strong initial network of partners, including some former competitors, not much advertising was sold for these spots. By the fall of 2012, only a few of the partners were posting regularly and several had gone belly up, attesting to the fragility of so many community news start-ups.
"Our goal, from the start, was to answer the question: In an era of start-up websites, community bloggers and smaller Metro newsrooms, what role does a big media organization play in fostering local coverage in a large, diverse community," Rick Hirsch, now The Herald's managing editor, said in reporting on the launch of the network. The channels on the miamiherald.com were one response.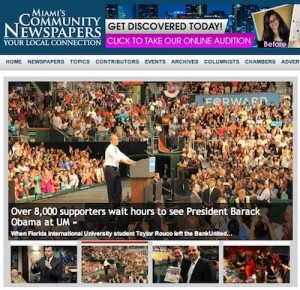 The first five partners included two weekly newspaper organizations. Community Newspapers Inc., a long-time competitor that covers small municipalities in South Miami, Pinecrest and Palmetto Bay. Curtis Publishing's River Cities Gazette covered Miami Springs, Virginia Gardens and Medley and it also published weekly football magazines, including one for the Miami Dolphins. The Net-J project gave these two companies the first online presence they ever had.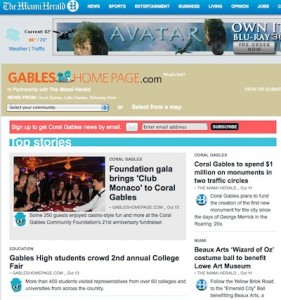 GablesHomePage.com, launched by the Coral Gables Community Foundation with a matching Knight Foundation grant, would operate the network's Coral Gables channel – plus its own website. Rounding out the partnership were two new start-ups, the Key Biscayne Times, headed by a former journalist, and the West Kendall Today, to be created by Ana Acle-Menendez, a former Herald reporter and editor, who wanted to publish bi-lingual content for the city's Southwest, mostly Hispanic suburbs.
Each partner got a clever avatar that accompanied their posts, and links to their content could be followed from two visible community-news spots on The Miami Herald's home page.
Before long, The Herald was attracting other partners, including The Coconut Grove Grapevine, Orthodox Miami, Haitian Link and Biscayne Corridor. At its height, the Community News Partners pages got a million page views in a month with a few particularly popular stories, but the typical traffic is still about 500,000 page views a month, said Levinson, now McClatchy's Director of Digital News.
Not long after the launch, Community Newspapers created its own website and its partner posts dropped off. Key Biscayne Times went out of business and Acle-Menendez got a full-time job, which reduced her activity. Both the Coconut Grove Grapevine and GrandAveNews,org, a University of Miami site, went dark.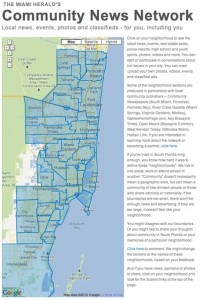 "Grand Ave was an amazing teaching tool and we got the best work ever out of our students with it," said its founder Kim Grinfeder, who launched the site with New Voices funding from J-Lab. He had hoped to integrate the news site into the journalism curriculum to keep it going, "but I failed to produce the change needed in our department to implement it," he said.
Today, The Herald's Community News Network pages are populated with some partner articles and also relevant stories produced by The Herald's reporters.
Jared Goyette, who worked for The Herald and helped produce content for the Biscayne Corridor channel, said there was "one central flaw" in the project.
"This whole thing depended on small independent publishers selling ads on a platform that wasn't theirs," said Goyette, who recently moved to Sacramento, Calif., to be editor-in-chief of the hyperlocal Sacramento Press. "Any model that depended on that wasn't going to work."
Goyette said the bloggers who were enthusiastic about their own sites didn't really have the skills to sell ads on The Miami Herald's site.
He did, however, credit The Herald with being "very generous in the amount of exposure they gave to their bloggers."
Levinson acknowledged that the level of partner posting had subsided. "If you do hyperlocal, be realistic about how often someone wants to write about something," she advised.
She doesn't regret having one website to handle all partner content and sell ads.
"It was a wonderful project. Remnants of it are still here," Levinson said. "It has changed the way the newsroom thinks about community news."