Urban Milwaukee
East County Magazine
Great Lakes Echo
The Lens
Twin Cities Daily Planet
NowcastSA
Engagement via Visualizations
Comparing What Is with What Could Be
When "urbanists" and web developers Dave Reid and Jeramey Jannene founded Urban Milwaukee in 2008, they aimed to use the site to advocate for the city's built environment.
In the process, they've employed some novel ways to engage their readers and bring about 11,000 unique visitors per month to the site. One strategy led to a notable before and after.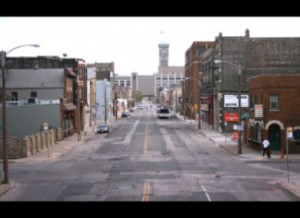 In April 2009, the site zeroed in on re-imagining South 2nd Street, a pitted roadway lined with a hodgepodge of architecturally interesting buildings in the city's Walker's Point section. "It seemed ripe for improvement," Reid said. "It seems like a logical place to start with a complete- street type of idea," he said, referring to the movement to design streets that provide safe access for all users.
The local community actively weighed in with comments and graphic artist Kieran Sweeney jumped in and offered to sketch a total redesign. With colored bike lanes, street trees and curb bump-outs, the plan foreshadowed possibilities for a strip that met the needs of motorists, plus bikers and walkers.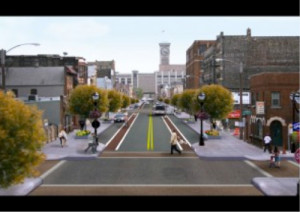 At the time, GOOD magazine was running a livable- streets competition. The 2nd Street design was entered – and took second-place. Milwaukee news outlets soon picked up on the idea and published the street images. A local alderman jumped on board, and the idea of a redesign got on the local public works agenda.
Two years later, in May 2011, the community celebrated a ribbon cutting of the newly redesigned street that had almost everything in the initial sketch – plus street lighting.
The 2nd Street project was not the only time the site urged its audience to visualize possibilities. In March 2009, the city was moving forward on plans to launch a streetcar route in the city. Urban Milwaukee invited its audience to use Google maps to design their ideas for the best three-mile inaugural route. Users were then invited to vote for their favorite from 11 routes put forth. "One of the designs submitted closely reflected the ultimate route," Jannene said.
Readers ask questions about real estate transactions or street closings via Twitter, but the site's founders say they often interact with their audience through their individual accounts.
In addition, they host a book club where a group of 10 to 15 people meet to talk about books on urbanism. Every June they celebrate their anniversary with a get-together and they hold parties after key votes on urban projects.
Their latest engagement strategy is also a revenue strategy for their enterprise. They have opened a store next to their workspace where they are selling pro-Milwaukee T-shirts, books and photographs.
Participatory Engagement
Empowering an Army of Eyes, Ears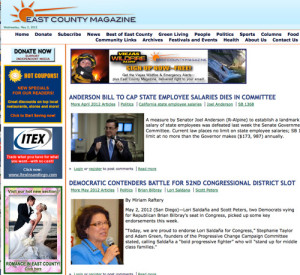 When East County Magazine launched in 2008, one way it immediately engaged residents was by providing free alerts about wildfires and emergencies in the eastern outback of San Diego County.
Home to rattlesnakes and mountain lions, a growing wine industry and casinos operated by some of its 18 Native American tribes, East County is a region of about 480,000 people.
There is much to focus on: With San Diego now a growing green energy hub, East County has sprouted wind and solar energy farms and an algae bio-fuels industry. Land-use issues involving the use of parkland are a key topic.
"We tell our readers that if you see some wrongdoing, get it on photo and video," said editor Miriam Raftery.
And so she put out a call when a tip arrived that the local gas and electric company was violating no-fl y zones near protected eagles' nests. The video got the company's helicopters grounded, Raftery said.
"Another video proved a water district was violating orders not to dig up sacred grounds with Native American remains. We showed it at a water board meeting, and the next day the attorney general sued the district and issued an injunction," she said.
"It's like we have this army of eyes and ears out there. We really empower our people a lot." Empowering its audience is a key engagement strategy for the site. It recruits "spotters" for wildfi re outbreaks. It barters ads for access to a police-scanner site to add to its community alerts.
Raftery said the site has been recognized by local, state and federal agencies for its community information and engagement around wildfire reporting. "We now collaborate with radio and TV stations in providing … real-time information for wildfires in California. Our informal 'spotter' network has transformed to include firefighters, and the model is now being replicated in several other communities," she said.
East County Magazine employs some of the typical strategies for reaching out to its readers. It signs up subscribers and volunteers at public events, solicits sponsors for its own events and makes targeted donation pitches when it needs something in particular, such as an upgrade to a private server.
"When we started, we thought it was going to be monthly," she said. "In the fi rst week, we had enough content to go weekly." Now, she posts daily. The award-winning site reports monthly unique visitors as high as 50,000.
She values social media. Story tips often come from Facebook. And the site uses two Twitter handles: one for fi re alerts and one for news. People who follow an alert link to the website often subscribe to the weekly email newsletter. Raftery, however, says she uses Twitter cautiously. 'We might do a couple of tweets a day. Some days none. If we get too many in a day, people will opt off."
"When we send it, we want it to be worth it." "We tell our readers if you see wrongdoing, get it on photo and video."
Offbeat Ways to Engage and Entertain Your Audience
What if the subjects of your news stories are leaking septic tanks, overflowing sewers and invasive species that can devour entire ecosystems?
In such matters, connecting with your community can involve teaching as well as telling through serious journalism. Add an ounce of ingenuity and some good guffaws, and you devise some engagement opportunities that range from the absurd to the awe-inspiring.
The five-year-old Great Lakes Echo, has devised a menu of offbeat opportunities to involve its community of readers who care about the Great Lakes watershed.
The site is a project of the Knight Center for Environmental Journalism at Michigan State. Most recently, a student reporter wrote about the state's plan to kill 13,500 swans, and she included a poll asking reader opinions.
"We wondered if it made much difference just to get a click of the poll, but it was an interactive element that we hadn't used in a while," said site editor Dave Poulson, the center's associate director. "Then we noticed tweets that said something like: 'Should Michigan kill swans? Vote!'"
Five days later, 419 votes had been cast, 43 comments were posted and the story had been liked, shared and tweeted more than 311 times. "I realize those numbers may not sound high in relation to other sites, but for us it's a huge spike from the norm," Poulson said.
"When I saw the poll … on Twitter, I wondered if telling our readers to 'go to the story and vote' got us more readers than if we just said 'go to the story.'"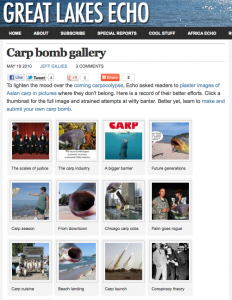 The site has gotten a lot of mileage out of such wacky interactions as:
Carp Bombs, a gallery of reader photos that contain photoshopped images of the invasive Asian carp.
Great Lakes SmackDowns. The site's 2010 competition pitted eight of the region's invasive aquatic species against one another. In 2011's "Terrestrial Terror," readers were asked which species was the most destructive to the region.
Facebook quizzes that ask readers:

Which Great Lakes invasive species is your former significant other?
Which Great Lakes are you? Shallow like Lake Erie? Or stormy like Lake Michigan?
Then in March 2012, the site Flash Point. Echo, light-infused images, star trails captured digitally Engaging with Humor launched mimicking an idea from Outside Magazine, invited regional photographers to send their favorite and trickiest-to-shoot photos, along with their tales of how they got them. Photographers sent in stirring, light-infused images, shots of amazing Northern lights and cool star trails captured digitally by shooting 350 30-second exposures. Amateur photographers began asking questions.
"Some asked if we'd pay them for the image. We said the best we could do was a link back to their commercial site," Poulson said. "To my surprise, that was enough for several to submit." Echo found more photographers by tracking who was re-tweeting the stories.
Launching soon is a weekly video feature called WadayaKnow? It's modeled after Jay Leno's Jaywalking feature on the Tonight Show. Students ask simple environmental questions of people on the street and video the responses.
Examples: Where does your water come from? Name the Great Lakes. What is the greatest threat facing the Great Lakes? What is the difference between climate and weather?
"Some of the answers are hilarious. Some serious. Some really, really wrong. And some are right," Poulson said. Each feature ends with an expert such as the state climatologist, a water microbiologist or an ecologist explaining the correct answer. "They're just coming in now but they look pretty good."
Poulson's strategy on engagement: "I still think you've got to invite the audience in. You've got to challenge them," he said. "It's like pushing a rope sometimes. But if you have to push too much, something is not working."
Engagement Towards Sustainability
Bringing on a Full-Time Engagement Editor
Scarcely a year ago, The Lens in New Orleans brought a new staff member on board. Maggie Calmes' task was not only to monitor metrics on the investigative news site but also to develop its event activities.
Her title was a new position for the organization: Engagement Editor.
In mid-March 2012, the nonprofit site held its third "salon." About 120 people came to hear a panel of five experts discuss juvenile justice policy and a controversial 8 p.m. curfew for teens in the French Quarter. The curfew prevented kids under 18 from working in the Quarter's restaurant kitchens or performing with the local music groups.
"This was more of an educational event rather than a Lens-based event," Calmes said. Other events tended to involve more social mingling or source development, and participants paid a small donation if they wanted. But educational events are "something we wanted to do."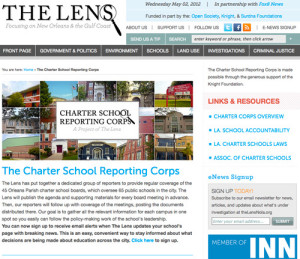 The Lens is developing its salons and other events with two aims: One is making them an extension of its journalism. In addition, The Lens is seeking to develop new relationships and secure some new streams of financial support from future event fees or sponsorships.
It is also launching a membership drive and a new website design that will add another column that can accommodate advertisements or announcements as a way of engaging with corporate sponsors.
Calmes figures the site gets about 35 percent of its traffic through Facebook. And reporters regularly Tweet from meetings they cover. "It's a way to publicize [the meeting] and a way to take notes," she said.
"It's easy to 'like' someone on Facebook and post a comment, but it's way harder to go to PayPal and get someone to make a donation," Calmes reins of a historically corrupt and ineffi cient government," Calmes said. The site has more than 1,750 Facebook fans and 2,800 Twitter followers.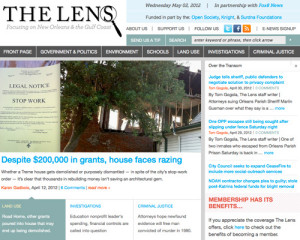 "We want to engage people in ways that are very natural and good and positive, and it's hard to do that while asking people for money," she said. The site now operates on just under $500,000 a year.
Appealing to Calmes was The Lens' commitment to covering the master narrative of a hurricane ravaged city. "The Lens highlights the need for a more engaged New Orleans and a more transparent government."
"The 'narrative' is one of a recovering city taking the reins of a historically corrupt and inefficient government," Calmes said.
"It's what sets us apart and what attracted me to The Lens," she said. With the events, "we are trying to get those people who are super civically engaged and get to know us."
Charter School Project
Part of that is reflected in the site's charter-school reporting initiative that targets communities with kids in schools. (New Orleans is a center of the charter-school reform movement.) The Lens has recruited a corps of paid freelancers who cover each charter school and work to ensure that the schools release a meeting agenda, that the meetings are held and minutes are posted. "Educational reform pulls in people from every possible background," Calmes said.
The Lens also invests in publicizing and supporting community workshops that teach citizens how to attend city meetings and efficiently engage local officials.
The Lens publicizes the locations and people come to offer story ideas.
Another of the site's get-to-know-us activities are "Offline with The Lens" days when staffers park themselves in a remote location within the community to work instead of working out of the space it shares with the Fox8 newsroom.
The site has held three "Offline" days so far – a concept borrowed from California Watch. Calmes says they have produced some 40 story ideas. Some of the ideas pan out and others don't, but Calmes gets back to the person to tell them what The Lens found out. "We're very attentive to those kinds of things," she said.
Calmes is engaged in setting some quantifiable engagement goals for the coming year. One goal is to increase the site's average weekly unique visits beyond 1,600. And she is doing deeper training in Google Analytics to help her connect the dots.
"I'd like to see what are the stories that people read that prompt them to click on 'Donate.'"
Engagement on Specific Issues
Twin Cities Daily Planet Connects with Niche Newsletters
In January 2012, the Twin Cities Daily Planet, a gritty seven-year old start-up in Minneapolis-St. Paul, added even more tasks to its already daunting workload.
The bootstrapped daily news site launched three specialized newsletters:
Education News offers a weekly roundup of local education stories plus some links to national coverage.
TCFoodies is a weekly collection of TCDP's coverage of food issues, from restaurant stories, to blogs, to urban gardening and the farm bill.
Southeast Minneapolis is a biweekly newsletter covering news in neighborhoods around the University of Minnesota. It's a collaboration with nearby community organizations that wanted more coverage after their neighborhood print newspaper folded.
"I absolutely think of these as engagement strategies," said the site's editor Mary Turck.
"We know there's a lot of interest in specialized areas," Turck said. "One of the amazing things is seeing the responses."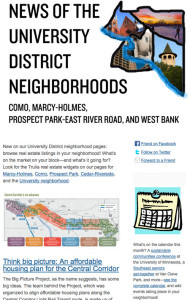 The newsletters are published using MailChimp's email marketing service; a 12 percent open rate is the norm. TCDP's daily e-newsletter gets around a 10 percent open rate, Turck said.
"With TCFoodies, we started getting upwards of a 50% open rate, which is not what you get. That was phenomenal."
Meanwhile, Southeast Minneapolis has had open rates of between 60 and 90 percent with a fast-growing subscriber list, she said. Plans are afoot to soon add a four-page print newsletter that can be distributed in coffeehouses. "It's clear that these niche publications are what people want," Turck said.
The verticals follow the launch two years ago of another newsletter, ArtsOrbit. TCDP doesn't derive much revenue from ArtsOrbit, and it even gives arts organizations some of its surplus ad inventory to try to help them stay afloat.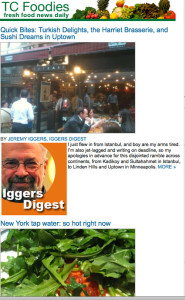 TCDP has a small staff and relies for much of its content on recruiting and training contributors. But the newsletters give the site a certain "synergy" with the audience: TCDP gives them better news and readers keep the Planet up to date.
"We do a lot with a little," Turck said. "But it's exciting. We're connecting people more and more."
TCDailyPlanet launched in 2006 with one of the original New Voices grants from J-Lab. Since then, it had been an innovative leader in finding ways to engage with its audience. It partners with some 40 ethnic and community news organizations. It has launched a corps of correspondents for its Neighborhood Newswire. It does media training workshops for the community.
For readers who want to rant, TCDP offers a Free Speech Zone for unedited contributions.
To recruit more serious writers, it posts a list of stories it wants. For the elections, TCDP wants to identify issues that matter and is paying $10 to contributors who will write up one-on-one conversations about what individuals think is important in the local, state or national races.
Meanwhile TCDP is working on the second year of its "New Normal" project, an examination of the economic challenges and demographic changes in the Twin Cities that involves community conversations and interactive Q & As.
Turck said the best way to get people engaged is to personally "meet them face-to-face" or work individually with writers.
"Once you get a relationship going, that's when social media becomes highly important," she says. "But social media is a tool; it's not a solution. It's a really good tool, but it's only a tool."
Engagement by LiveStream
Juicing Participation via Webcasts
When NowcastSA aired a webcast of a town hall exercise on San Antonio's future, it snared 2,000 comments in one hour on its website.
An "integrated chat" scrolled alongside the livestream of the September 2010 "SA2020" event, which was the start of a conversation about what residents wanted the city to be in 2020. Twitter was employed as well.
The first SA2020 was staged in a room that held only 750 people, but 1,000 showed up. So Nowcast's livestream of the four-hour event was piped into overflow space. For the event's leaders, it had "profound impact," said managing editor Charlotte-Anne Lucas. They saw that people participated from all over the world. Five more conversations were held over the next year.
As Nowcast webcast more community meetings, both in-person attendance and online viewing grew. Community leaders began attributing Nowcast's livestreaming and outreach "as the key to why they got in-person attendance," Lucas observed. "People very quickly said, 'How much do you charge?' So Nowcast came up with a fee schedule," she said.
By early 2012, a growing number of San Antonio community groups – from the United Way to the Department of Energy to the San Antonio Housing Authority – were commissioning NowcastSA to videotape their meetings and events, often writing the site into their grant proposals as their on-ramp to stir civic engagement.
U.S. Education Secretary Arne Duncan came to town "and the mayor's office called us in to livestream it," Lucas said.
Last year Nowcast brought in $51,000 in revenue from its videotaping services. Lucas projects such revenue will grow to $75,000 this year.
NowcastSA launched in 2009 with funding from the Knight and San Antonio Community Foundations to create community conversations and civic engagement through its website and by webcasting public meetings and events.
The site now uses a number of video platforms, including Livestream, YouTube, Blip and Vimeo. A new service will be soon enable videostreaming to mobile phones.
Conventional thinking is that if the news is important enough it will find me," said Lucas. "For me, it's important to be where the content will be found."
"Young people, instead of Googling things, are You- Tubing things, so if you are not on YouTube, you won't be found," Lucas said.
Nowcast also edits long livestreams into small segments. It has a video database where one can search for a video by the place it happened, by the person in it or by the topic. But storage becomes an issue. "We just moved 350 pieces of video to the cloud," Lucas said.
Videotaping events allows people to participate who might not be able to attend in person. Lucas has seen the impact.
At one high school event in November 2010, "the online audience was so engaged the chairperson ended up using our computers to interact with people online," she said.
At the September 2010 SA2020 event, a former intern from the mayor's offi ce ended up actively participating online from Stanford University. "It was totally magic," Lucas said. "It was very much a vertical expansion of the room."
Lucas helps others in the community engage their constituencies. Nowcast worked with one San Antonio media teacher to livestream all eight high school graduation ceremonies. "When a kid from Edison High School got up to sing the national anthem, his mother, who was deployed in Iraq, could watch him," she said.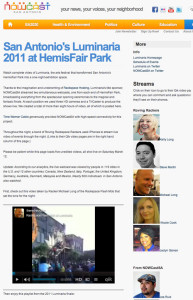 For the city's 2011 Luminaria night, Nowcast did simultaneous livestreams from both ends of a city park. "We got the best video and audio ever produced of the San Antonio Orchestra," Lucas said. Every piece of video has text wrapped around it, which helps search engines like Google to find it. And it helps Nowcast with analytics.
Lucas is moving forward with plans to recruit journalism students to do a story on each of the 140 projects contained in a forthcoming municipal bond issue. Currently the site features an interactive Google map that reveals photographs, budgets, and other details for each of the projects, as well as webcasts from the San Antonio Bond Committee meetings.
Nowcast is also working with other San Antonio media outlets. Recently the public radio station asked Nowcast to participate in a town hall. "The biggest problem with town halls is getting people to show up," Lucas said. "They felt more people would show up if we we're there."
Now, if Nowcast doesn't know about something, Lucas said people ask her, "Why wasn't Nowcast here?"