The rise of social media tools in recent years has empowered online news startups to increase content distribution, market their sites and track users. But most of these small news sites say they cannot lasso data to track whether they are turning users into supporters who will help their sites survive.
According to a national survey on audience engagement, nearly eight in 10 online survey respondents said they could not measure whether their engagement strategies were also converting readers into advertisers, donors, content contributors or volunteers.
"Such an effort is beyond our capacity," said one respondent. "We need help," said another.
These are among key findings of a new survey, funded by the Robert R. McCormick Foundation, focusing on how "digital first" news sites are engaging their audiences and measuring that engagement.
"These small sites can measure interaction with their content, but they don't have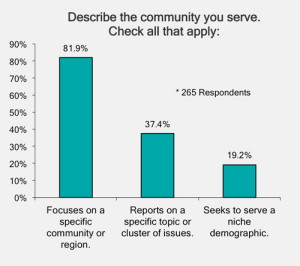 good tools to measure meaningful engagement," said Jan Schaffer, director of J-Lab: The Institute for Interactive Journalism, which spearheaded the research. "This affects both the future of their operations and the impact they can have in their communities."
Social media connectors such as Facebook and Twitter were highly valued, but they were primarily used to alert users to new stories or information.
New analytical tools gave these news startups some useful data, but survey respondents said their top metric for measuring engagement was still website usage – unique visitors and page views. Many expressed dissatisfaction with the information they get.
"We feel these numbers only give us part of the information we need," said one respondent. "We're interested not just in breadth of engagement but more in depth of engagement."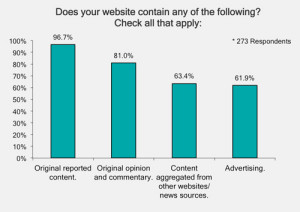 Even though data on depth and stickiness of audience engagement were missing, creative ideas were not. In more than 1,300 open-ended comments, respondents described many resourceful strategies they are using to involve their audiences in community issues and information.
Many of these ideas extend beyond conventional definitions of engagement as audience interactions with content. At least four types of engagement surfaced in the survey responses, but how well the respondents optimized these engagement strategies varied by organization.
They include:
Engagement as outreach, driving users to consume content.
Engagement as reaction, inviting users to comment, share, like and chat.
Engagement as stakeholder participation, getting users to contribute stories, time, funding.
Engagement as civic participation, activating audience members to address community issues.
"As these small startups build new toolboxes to connect with their audiences, they need new ways to identify and measure the different strata of engagement," Schaffer said.