Engagement through Advocacy
Improving Education in Chicago with Authoritative Journalism
In 2007, Catalyst, a news magazine focused on Chicago education issues, reported that many pre-school children were staying at home and leaving empty seats available at nearby schools.
Catalyst did what more traditional news outlets would not: It tried to solve the problem.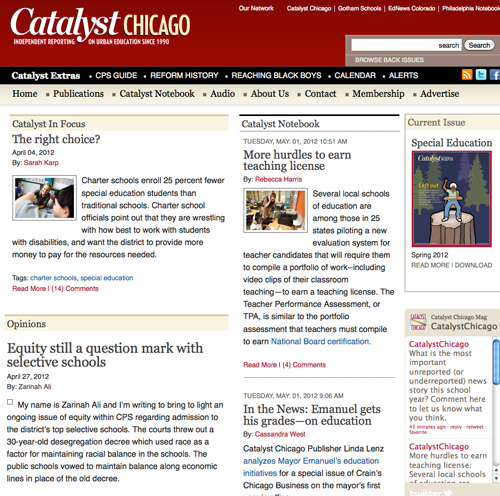 "In Englewood and West Englewood, there are nearly enough slots (1,323) to serve the estimated 1,500 3- and 4-year-olds who live there," the story said. "Yet filling those slots has proven difficult, and outreach workers are now canvassing homes to determine why, as well as to get an accurate count of how many children are now in pre-school."
Catalyst staff connected with local community organizations and pitched a series of forums on early childhood education that Catalyst would moderate.
The community organizations mobilized their communities and even got representatives from the City of Chicago involved. The forums were incredibly successful. One year later, nearly every Chicago Public Schools pre-school slot in that community was filled, and private institutions saw an uptick as well, Catalyst reported.
Catalyst's efforts were part of a cohesive community effort that encouraged change. Still, it was controversial for a news organization to become so involved in the community it serves.
"This is something that's close to the line. We have to be careful about our role in advocacy issues because we're journalists," says Catalyst Publisher Linda Lenz of the pre-school forums. "It was a judgment call. We're journalists, but we exist to make school system better."
The Catalyst is one of a number of emerging news sites – covering everything from schools, to health, to development – that blend good journalism with working for the good of the community. Engaging their communities through informational forums and community events is just one of the tools in its toolbox.
Tailoring Products to Reach Four Core Audiences
Over the years, the Catalyst, founded in 1990 by Lenz and published by the Community Renewal Society, has developed an intriguing cocktail of engagement strategies that align with its mission of improving "the education of all children through authoritative journalism and leadership of a constructive dialogue."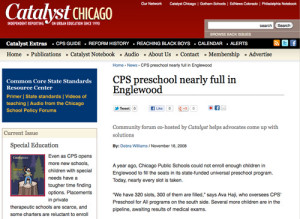 From in-person events and forums to customized content, Catalyst has baked engagement into all of its editorial efforts. Part of the effectiveness of its strategies stems from its focus on four target audiences: parents, educators, community leaders and policy makers.
"We put together a package of products and services that we think will touch on the lives of those groups," says Lenz. A quick sampling of Catalyst's products includes:
An in-depth quarterly publication of investigative reporting on education issues.
A four-page newsletter for parents that is available in English and Spanish and reaches over 90,000 parents via distribution on report-card pickup day.
Online news and content verticals that touch on specific topics, such as student achievement and reaching black boys.
"The largest percentage of online readers are teachers," says Lenz. "Page views are really high on stories dealing with teacher contracts, issues and school closings."
Public forums on a variety of issues, including teacher evaluations and better use of longer school days. According to Lenz, Catalyst has seen online registrations of "close to 300" for these forums.
Catalyst has also hired a Community Editor, who manages a number of tasks at the intersection of development, marketing and community engagement. While this role is still developing, Catalyst's community editor works to boost engagement across all of Catalyst's core audiences and content platforms, including in-person events and social media.
Engagement from the Inside Out
WBEZ Builds an Organizational Strategy to Encourage Engagement
For Chicago Public Media, WBEZ 91.5, audience engagement means more than simply building traffic for its news programs. As important, it's about improving the "civic health of the community."
That means engaging people in helping to increase the quality of the content on air and online and also connecting community members at events – all with a goal of informing citizens.
"I think a lot about healthy communities," says Breeze Richardson, WBEZ's Director of Strategic Partnerships. "Success looks like positive contributions to our community. … It's about cultivating an informed citizenry." By that measure, WBEZ has scored some enormous successes in the past year.
In the past six months alone, the news organization has fi elded more than 2,000 audience contributions, be they call-ins to programs, uploaded content or ideas for guests, and coverage topics. To continue to build on this success, WBEZ, which has served the Chicago area since 1943, is building a strong organizational strategy that supports community participation across multiple levels, from content production to marketing.
The engagement strategy is designed to increase the quality of content and community connection. Efforts fall into three distinct areas: on air, online and community events.
WBEZ has gone beyond the megaphone model of putting content into the world and instead makes a concerted effort to include community members and stakeholders in conversations around the news. Strategies to foster engagement can be as simple as "baking time in" for a Q+A conversation at an in-person event, according to Richardson.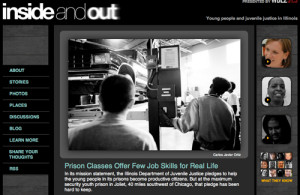 Inside and Out, a series focused on juvenile justice in Illinois, has kicked off a significant public conversation. Hundreds of people attended a forum on the issue after the series began, fueling a call for significant reforms at a statewide level.
As a result of WBEZ's coverage, the director of the Illinois Department of Juvenile Justice was removed. It's one case where "policy changes have been suggested or implemented" as a result of WBEZ's work, Richardson said.
It's important to note that, unlike some organizations that view engagement as a tool for mobilization, WBEZ draws a line when it comes to calls to action.
Its mission is to inform the community so that citizens are equipped to make their own decisions. As a public media institution, however, it does not build campaigns around issues.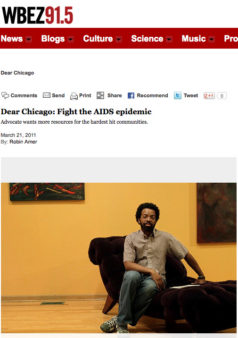 WBEZ also uses strategic partnerships with community organizations to drive programming and content creation. For Dear Chicago, WBEZ worked with 21 partners to curate stories from Chicago residents in an attempt to counter political punditry and overused talking points in the 2011 election cycle.
WBEZ's partners nominated more than 70 individuals for the series, which resulted in 15 multimedia profiles of individuals "whose personal stories illustrated an issue or problem that city government can and should address." Dear Chicago was featured by the National Center on Media Engagement's "Stories of Impact" project.
Infrastructure to Support Engagement
Like many of the organizations surveyed for this report, engagement at WBEZ is firmly rooted in the production of "good journalism." However, engagement is also a much more holistic part of WBEZ's organizational strategy.
To effectively work with its community, WBEZ approaches engagement from an "inside-out" perspective. Richardson says, "Internal engagement is crucial. The stronger the internal engagement is, the stronger the external engagement [in the community.] There's no way to take it on otherwise."
That means that WBEZ looks at engagement efforts for each department, from marketing to social media, from on-air content to blogging.
For news organizations looking to increase the connection to their communities, Richardson recommends looking beyond the word "engagement."
She encourages organizations to think critically about authentic audience participation. Richardson also has a word of warning: "It's dangerous to make efforts to engage without tools for actually tracking the work."
In other words, if engagement is part of an organizational mission, make sure to articulate clearly what kinds of engagement the organization is looking for. Success cannot be defined without a means of measurement.
Engaging via Arts and Culture
Creating a "River of Content" by and for Chicago's Young Latinos
When a local bakery owner made disparaging remarks about violence in Chicago's Humboldt Park neighborhood, Gozamos was one of the first media outlets to cover an incident that quickly went viral, igniting protests that led to coverage from local legacy media, including ABC7 Chicago – and a formal apology from the bakery.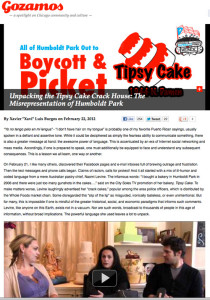 Six years ago, Naomi Levine, owner of a high-end pastry shop, had moved into Humboldt Park as part of an influx of people who were gentrifying a largely Puerto Rican community. After several years operating in the area, Levine moved her shop to another part of town. In early 2012, she commented in a videotaped interview about why she made the move: "I bought a bakery in Humboldt Park in 2006 and there were just too many gunshots in the cakes…."
Her comment may have gone uncovered if one of Gozamos' writers hadn't noticed a reader's post on Facebook. Before long, there was a growing sentiment that Levine had misrepresented Humboldt Park in a disrespectful manner.
The story "made a big splash. We were the first outlet that published, and the owners of Tipsy Cake mentioned us in [an] apology note," says Abraham Velazquez, co-founder of Gozamos, a two-year-old news site that covers cultural events and community issues for young Latinos.
Gozamos' work fed a broad public conversation about safety and public perception of the Humboldt Park neighborhood, which often suffers from a stereotype of being crime-ridden and unsafe. Its coverage also brought together many community groups, which organized protests.
"We have great partnerships with the Puerto Rican Cultural Center and Batey Urbano," a youth and culture center in Humboldt Park, says Velazquez.
Gozamos' content is typically grounded in arts, music and events for Chicago's Latino community. That content, though, provides a bridge for Gozamos to take on more serious issues, such as immigration, gentrification and GLBTQ rights. "We try to hit things that are funny and personal, and we try to spark a conscious awareness of social issues," Velazquez says.
Open-Contribution Model
Velazquez built Gozamos, which means "we enjoy" in Spanish, to be a "curatorial, community-based event finder" in which editors and writers are active members of their neighborhoods. The goal: to "create a river of content fl owing from the community."
While Gozamos pays its contributors a small amount for their work, it also has an "open model in the sense that we ask people to contribute [stories] at the bottom of every page," says Velazquez. "We are passionate about our community and culture. We call our users culturally savvy people, but [content is] not exclusive to Latino culture."
Gozamos engages its audience by backing up a robust, mobile-friendly website with a healthy mixture of social media and in-person conversations. While none of Gozamos' 20 to 30 writers are full time, they are all active in their neighborhoods. Readers are also engaged as sources of tips and content via Facebook and Twitter.
The open-contribution model and community presence seem to be paying off. Gozamos reaches between 10,000 and 20,000 visitors a month and just launched a site for Milwaukee's young Latinos.
Velazquez says he'd like Gozamos to be smarter about using traffic metrics to be more effective. "I come from an advertising background and conversion is important to me," he says.
However, "It's not something we do well." The expertise of "data analysts" for news is still emerging, he says, and it's hard to f nd staff to fill this role.
In the meantime, Gozamos tracks what kinds of phrasing is effective with its community and continues to focus on building a conversation across multiple channels.