$10,000 Grand Prize Winner
chicagocrime.org
Adrian Holovaty (Chicago, IL)
"A pioneering integration of geomapping and a public database, it delivers one of the most comprehensive crime sites online. It's a knock-out for one journalist to see all the pieces and put them together."
-2005 Batten Advisory Board Judges
The site overlays a database of all crimes reported in Chicago onto Google maps to give a searchable and visual report of what crimes are occurring and where.
$2,000 First Place
The View Magazine
IMOL, Interactive Magazines Online (London, United Kingdom) "This interactive magazine foreshadows the future with its use of hip new story forms and highly video-centric Web tools."
-2005 Batten Advisory Board Judges
This quarterly netcasting magazine integrates ISP broadcasting and print magazine information produced by individual backpack journalists ("solo-jo's") from England, the United States and South Africa.
$1,000 Awards of Distinction
Town Square
News & Record (Greensboro, NC)
"A daring initiative to reconceive the role of the newspaper in the community, it solicits community voices and heightens transparency of the newsgathering process."
-2005 Batten Advisory Board Judges
The newspaper's goal is to help citizens share the news they know and engage in civic discussion. In its early evolution, it has 16 staff writers maintaining blogs that link users to primary source documents and venues where citizens can contribute their own content.
Minnesota Public Radio (St. Paul, MN)
"This ambitious initiative to tap the collective wisdom of public radio listeners has created a 10,000-person 'public source network' and launched an interactive 'Idea Generator'."
-2005 Batten Advisory Board Judges
A keystone of MPR's efforts to enrich its reporting with knowledge from its audience, PIJ invites story ideas, story reaction, and brainstorming on such public issues as the future of small towns and the racial performance gap in the state's public schools.
The Cost of War
Newsday.com (Melville, NY)
"An information and graphic extravaganza, it sets a new bar for telling fact-dense stories in compelling ways."
-2005 Batten Advisory Board Judges
A terrific presentation on the Iraq war. Users who burrow into its interactive tiers find friendly Flash graphics on civilian and soldier casualties, weapons and equipment, key moments, and the impact on the U.S. and Iraq.
When Death Comes Too Soon
Portland Press Herald/Maine Sunday Telegram (Portland, ME)
"It ensured entry points for reader comments and discussion after each installment."
-2005 Batten Award Judges
This series looks into why Maine has the eighth highest suicide rate in the nation by telling deeply personal stories about some of the state's suicide victims and how their families have attempted to cope.
Feet in Two Worlds: Immigrants in a Global City
http://www.wnyc.org/news/articles/46883
WNYC, New York Public Radio (New York, NY)
"An imaginative, informative partnership."
-2005 Batten Award Judges on "Feet in Two Worlds"
This project brought together public radio and ethnic media to tell the stories of new immigrants to New York City through radio, Web sites, and a live town hall event.
Recorded Voices
The Dallas Morning News (Dallas, TX)
"An important model for involving the public in a classic editorial board campaign."
-2005 Batten Award Judges
In advocating for the votes of Texas lawmakers to be publically recorded, the newspaper invited the public to weigh in and won support from more than 130 community groups who formally backed the cause.
Five Points: Looking Back, Looking Ahead
The State/thestate.com (Columbia, SC)
"A good model for covering urban redevelopment."
-2005 Batten Award Judges
A one-stop application combining print and online elements in a Flash interface where users could learn about the ongoing renovation of an important downtown neighborhood and business district.
Saving Block Island: How Rob Lewis Led the Way
http://www.projo.com/extra/2005/blockisland/
projo.com and The Providence Journal (Providence, RI)
"A stunning presentation."
-2005 Batten Award Judges
This mulitmedia presentation documenting a community-led effort to save Block Island from development incorporates video, audio and slideshows to convey the small-town ambience of the island and the effort to preserve it.
Video Blogs from St. Peter's Square
http://www.msnbc.msn.com/id/8077997/site/newsweek
Newsweek (New York, NY)
"It signals a new direction for blogging news sites."
-2005 Batten Award Judges
Instead of sending a camera crew and a reporter to cover the papal election, Newsweek went 21st century by sending Paris Bureau Chief Christopher Dickey armed with a video cell phone to record and submit blog entries from the Vatican.
The New York Times on the Web (New York, NY)
"It elevates op-ed writing to new levels."
-2005 Batten Award Judges
Op-ed columnist Nicholas D. Kristof combined written newspaper columns with audio and video narrations, still and video photography and interactive reader forums to help garner attention that has led to international efforts to help solve the problem in Darfur.
Beyond the Fire: Teen Experiences of War
http://www.beyondthefire.net/
ITVS-Electric Shadows Initiative (Washington, DC)
"A unique storytelling environment that forces users to interact via passports and travelogues."
-2005 Batten Award Judges
Pictures and audio tell the stories of 15 teens who escaped the ravages of their war-torn countries. Users register as "World Travelers" and can post comments once they have explored all 15 stories.
In-depth: The Budget Balancing Act
http://www.cbc.ca/news/background/budget2005/interactive/
CBC.ca (Toronto, Ontario)
"A funny, engaging exercise."
-2005 Batten Award Judges
This budget exercise gives visitors a chance to divvy up Canada's fiscal surplus—but remember the political consequences along the way. Included are short articles on a variety of topics; sound clips and Flash animations add humorous elements.
Chicago Tribune (Chicago, IL)
"Wonderful improvements on its first award-winning CD-ROM."
-2005 Batten Award Judges
The Chicago Tribune produced this multimedia CD-ROM, a coffee table book and softbound souvenir books to commemorate the life of the late pope. The CD-ROM included archival footage, exclusive interviews, interactive graphics, nearly 100 mini-biographies and more than 200 Tribune articles spanning 25 years.
Sherman's March on Columbia
The Sate/thestate.com (Columbia, SC)
"This interactive history lesson brought home events of 140 years ago."
-2005 Batten Award Judges
This series incorporated newspaper articles, slideshow presentations and a quiz-style game to tell the story of Gen. William T. Sherman's ruinous march through Columbia, S.C. in 1865.
The Multimedia Urban Reporting Lab (MURL) Program
http://www.temple.edu/murl
Temple University School of Communications, Journalism Department (Philadelphia, PA)
"A notable effort to teach future journalists how to cover their communities."
-2005 Batten Award Judges
To capture the essence of Philadelphia, Temple journalism students worked in teams to cover the city's neighborhoods, producing pieces that use various media platforms including broadcast, print and online.
Bluffton Today.com
http://www.blufftontoday.com/
Morris Digital Works (Augusta, GA)
"A nod to this innovative experiment to see if a news product can be created for a fast-growing community, based around ordinary people contributing."
-2005 Batten Award Judges
BlufftonToday.com is a community news site built by users who are given their own blogs, photo galleries, and the ability to post in special databases for such things as events or recipes. Users give permission to have their content appear in a free, daily newspaper.
Miami's New Skyline
The Miami Herald (Miami, FL)
"A great way to help people visualize how their city is going to change… more cities should do it."
-2005 Batten Award Judges
An interactive Flash presentation displays how 90 planned buildings will look and how they will change the city's skyline, when complete. When users click on each building, they can see the completed structure and get more information. By sliding the image back and forth, they can view five miles of coastline.
About Loss
Ball State University Department of Journalism (Muncie, IN)
"Touching insights and innovative entry points."
-2005 Batten Award Judges
This student-created, non-linear documentary uses audio and slide shows to tell the stories of Indiana residents coping with various losses. Users can view clips by emotional stage (such as anger, denial, acceptance) or by the person being interviewed.
Next-generation Data Maps
http://www.usatoday.com/news/politicselections/front.htm
USA Today (McLean, VA)
"Real-time information, clearly presented."
-2005 Batten Award Judges
For the 2004 election, USA Today used interactive electoral maps to deliver real-time data. More in-depth data surfaced by scrolling over a state.
Class Matters
http://www.nytimes.com/pages/national/class/index.html
The New York Times on the Web (New York, NY)
"The graphics did a bang-up job of conveying layers of information."
-2005 Batten Award Judges
This online series explored the way class influences destiny in the United States through a combination of stories, photography, audio interviews, slide shows and interactive graphics.
Ifra Newsplex (Columbia, SC)
"A new iteration of man-on-the street interviews."
-2005 Batten Award Judges
University of South Carolina students and others used this weblog to capture photos and captions shot and sent via cellphones from the 2004 Democratic and Republican national conventions and election activities in their areas.
(Spokane, WA)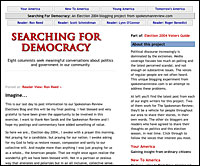 "A useful model for expanding election coverage."
-2005 Batten Award Judges
This extensive effort to involve citizens in the 2004 presidential election not only offered valuable hyperlinked information, but also let voters search for their voting precincts, chat with candidates and read the blogs of six citizen bloggers.
Voter Information Project (VIP)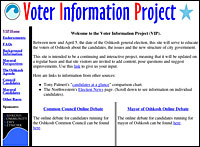 http://www.oshkoshnews.org/VIP/VIPhome.html
Oshkosh Community News Network (Oshkosh, WI)
"A worthy model for covering local elections."
-2005 Batten Award Judges
To cover Oshkosh's first elected mayor in nearly 50 years, the Oshkosh Community News Network kept voters informed with background reporting, a town hall meeting, and blog-based debates involving candidates.  
The Big Picture: Campaign Adviser
http://www.msnbc.msn.com/id/6268738/
MSNBC.com (Redmond, WA)
"An impressive advance on its first award-winning effort." 
-2005 Batten Award Judges
This online election guide allowed users to learn about the 2004 presidential campaign by stepping into the shoes of a campaign advisor and creating 30-second TV commercials, fine-tuning campaign messages, devising a spending strategy, and blogging for a candidate.
BBC News (London, United Kingdom)
"A novel attempt to use video cell phones to bring in other voices. If blogging opens the door a little bit, this opens the door a lot more."
-2005 Batten Award Judges
Twenty voters from around the U.K. voiced their opinions on the country's 2005 elections with short commentaries using video cell phones. The panel reacted to events leading up to election day and the results after the election ended.