Co-sponsored by J-Lab, the National Press Club Journalism Institute, and AU's MA in Media Entrepreneurship program.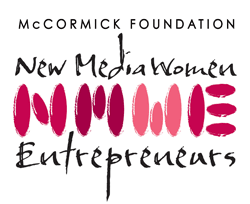 Funded by the Gannett Foundation and the Ethics and Excellence in Journalism Foundation
We brought together women entrepreneurs who have launched media projects large and small. The shared how they are moving their ideas forward and offered advice on the best digital tools and strategies.
See the presentations on J-Lab's Vimeo channel.
---
AGENDA
8:30 a.m. Continental Breakfast
9 a.m. Welcome, Introductions
9:15 a.m.  Give Me the Money
Grants  –  Nicole Hollway, General Manager, St. Louis Beacon
Advertising  – Diane Alverio, Founder  Latino News Network
Venture Capital – Melinda Wittstock, Founder CEO, NewsIT.net  
10:30 Break
10:45 a.m.  Making Your Startup Work 
Strategic Partnering – Michele Kayal, Co-Founder, American Food Roots
Bringing in Revenue – Jeanne Pinder, CEO &  Founder, ClearHealthCosts.com
E-Products – Laura Fraser, Rachel Greenfeld, Co-Founder, SheBooks
NOON Lunch
"Want to Truly Understand and Engage Your Audience? Tips and Tricks for Today's Online World"
– VANESSA FOX, Author, "Marketing in the Age of Google," Creator of Google Webmaster Central, Founder and CEO, Nine by Blue.
1:30 p.m. Digital Tools for the Media Entrepreneur 
Using and Tracking Social Media for the Media Entrepreneur Mandy Jenkins, Interactives Editor, Digital First Media 
10 Tools for any Digital Entrepreneurs' Toolkit – Jody Brannon – Editor, Next America on National Journal at Atlantic Media
Media Entrepreneurs: 5 Things to Do and 5 Things to Avoid. Takeaways from Working on Two Startups. Ju-Don Roberts, former GM and Senior VP Everyday Health, Executive Editor of Beliefnet, Managing Editor, washingtonpost.com
2:45 p.m. Open Dialogue with Participants
3:30 p.m. Adjourn