June 1-2 workshop in Washington, D.C. explores different models.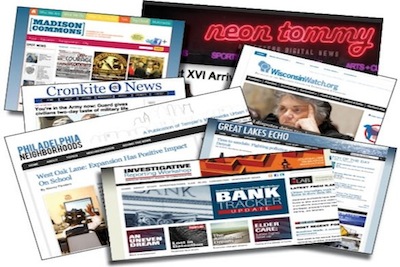 U.S. journalism programs are launching year-round University news sites that both fill the gaps in coverage and train students to be multimedia and entrepreneurial journalists. More than classroom exercises, these sites engage in watchdog journalism, report on geographic communities and focus on niche topics. This workshop is particularly targeted at those who are operating, or seek to operate, year-round University news sites. 
View the list of participants (pdf)
View the list of presenters (pdf)
See agenda below
Signups open to first 25 participants. J-Lab covers meals and one night of hotel.  Registration is now closed.

Missed it? See more at the J-Lab luncheoun on Aug. 11, 2012 in Chicago. Sign up via Eventbrite.
Sponsored by the Ethics and Excellence in Journalism Foundation.
New News Labs
Exploring University News Start-ups
A workshop for those editing or aspiring to edit
year-round news sites
Funded by the Ethics & Excellence in Journalism Foundation
---
June 1-2, Washington, D.C.
Friday, June 1
2:30 p.m.   Welcome Introductions
3:00 p.m. Investigative Reporting Sites
Investigative Reporting Workshop – Lynne Perri, American University
New England Center for Investigative Reporting – Maggie Mulvihill, Boston University
WisconsinWatch.org – Andy Hall, U-Wisconsin-Madison
4:30    Covering Underserved Communities
CU-Citizen Access – Brant Houston, Knight Chair in Investigative Journalism, University of Illinois-Champaign-Urbana
Intersections: South LA – Willa Seidenberg, Director Annenberg Radio News, USC Annenberg
6 p.m. Dinner Keynote: Marc Cooper, Founder, Neon Tommy
Neon Tommy is a Los Angeles-based web-only student publication, covering local, national and international stories. With more than 270,000 unique visitors and 360,000 page views a month, the site is regularly linked to by the LA Times, Huffington Post, Gawker, YahooX!, CNN and others.
Saturday, June 2
8-9 a.m. Breakfast
9:00 a.m. Covering Local Communities
AustinTalks.org, Suzanne McBride, Columbia College-Chicago
Mission Local – Helene Goupil, Editor, UC-Berkeley
PhiladelphiaNeighborhoods.com, Chris Harper, Temple University
10:15-10:45 a.m. Niche News Sites
GreatLakesEcho.org – Dave Poulson, Associate Director of the Knight Center of Environmental Journalism, Michigan State
10:45-11 a.m. BREAK
11-11:30 a.m. Covering Legal Issues
J-School Legal.org – Geanne Rosenberg, Project Director, Baruch College of the City University of New York
11:30-12 p.m. The Rebuild: New Purpose, New Partners
MadisonCommons.org, Lew Friedland, U-Wisconsin
Noon to 1 p.m.  LUNCH
1-2 p.m. Local, State, National Sites
Cronkite News Service – Steve Crane, Washington Bureau Chief, Arizona State
Medill News Service – Ellen Shearer, Northwestern University
2-2:30 p.m. Affiliating with Traditional News Organizations
The Local Fort Greene-Clinton Hill, a New York Times website, Gersh Kuntzman, Editor
2:30 – 3:30 Open Mic
Discussion: sustaining content and operations year round
3:30 pm. Adjourn