The latest crop of women news entrepreneurs who received J-Lab support in June 2011 are showing remarkable ingenuity and initiative in raising revenues, developing partnerships and making presentations.
These four women were selected to receive $12,000 awards funded by the McCormick Foundation. You can read about their work in some of their newest blog posts here and think about applying for a 2012 award yourself.
The deadline is Jan. 27, and this year the awards will increase to $14,000 in start-up funding. Four awardees will again be chosen.
Consider Laura Lorek, founder of SiliconHillsNews.com, a tech-news site for Austin and San Antonio, Texas. She has tapped into her region's rich infrastructure for entrepreneurs, initially by taking classes at Tech Ranch Austin, which offers various programs to support startups. She got accepted into Startup Texas, a partner of the White House's Startup America.  Startup Texas offers online seminars and discounts and is helping Lorek to develop her "pitch deck," a series of slides about the need for her site and her plans for supporting her new venture. She was invited earlier this week to pitch her site online by Startup America, an initiative by the Obama administration to jumpstart entrepreneurship.
Lorek is looking for $100,000 from angel investors via AngelList and is about to launch a Kickstarter campaign to raise another $15,000. So far, she is the only woman in the country to launch one of the growing breed of regionally-focused tech news sites.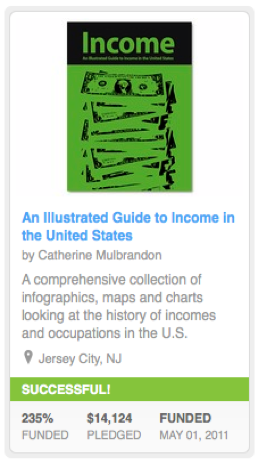 Catharine Mulbrandon, founder of VisualizingEconomics.com has reached her Kickstarter goal of raising more than more than $14,000 to publish her Illustrated Guide to Income in the United States. Since last June she has been invited to make several presentations about visualizing data, including one last month to the Congressional Budget Office. She has made other presentations at The Big Picture conference in New York City and at one of the monthly Creative Design lectures in Brooklyn.  She has also managed to snag one of five scholarships to attend SXSW in Austin in March. To help juice her ideas, she has signed up for co-working space at Mission50 in Hoboken, N.J., which has shared workspace for entrepreneurs.  
Kelly Kline, founder of Inside Women's Basketball, just sealed a deal to merge with another women's basketball site, Full Court. The founders of each site will each invest $12,000 in the merger and will be 40 percent partners, leaving a 20 percent stake for another investor.
Berkeley grad student Bo Hee Kim has targeted the school's RichmondConfidential.org site as the testing ground for her mobile prototype for hyperlocal news sites. She is now working with a developer to redo the back end of the site in HTML5 to accommodate some of her planned features for the mobile platform.
To find out more about how to apply and eligibility guidelines, join our web chat at 1 p.m. next Wednesday, Jan. 11 at www.newmediawomen.org/site/nmwe_livechat.