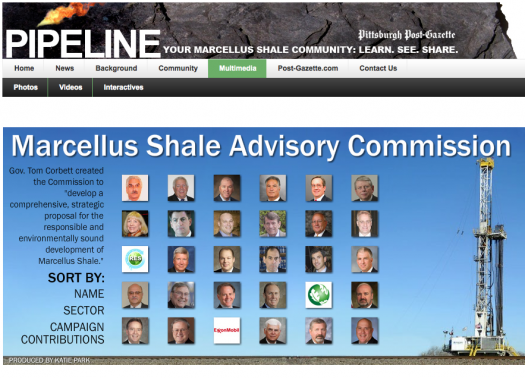 There are two words you hear a lot around the newsroom at the Pittsburgh Post-Gazette these days: Marcellus Shale.
"We were starting to see this land rush, gold rush, gas rush around us, literally under our feet." – Mary Leonard, Deputy Managing Editor, Pittsburgh Post-Gazette
Marcellus, as it is known casually, is the sedimentary rock separating speculating energy companies from a natural gas reserve 600-miles long and hundreds of feet deep, stretching from West Virginia through western Pennsylvania to the Finger Lakes in upstate New York. It has energy companies swarming the rolling hills seeking to buy land rights to extract the gas with a controversial procedure that many assert has grave environmental consequences.
The emerging industry could add $13.5 billion and almost 175,000 jobs to Pennsylvania's economy by 2020, according to academic studies. It has been compared to the clamoring for oil in Texas and the gold rush in California. 
"We were starting to see this land rush, gold rush, gas rush around us, literally under our feet," said Mary Leonard (pictured, right), the newspaper's deputy managing editor. 
"Certainly we knew we had a political s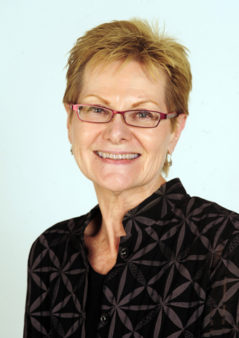 tory. We were seeing an environmental story and this is becoming a really big business story," said Leonard. But internally, those stories were covered without significant newsroom coordination.
In the first few months of 2011, the booming business has led to a new website, new partnerships and a renewed vigor inside the 225-year-old newspaper's newsroom. Marcellus is unfolding as the story of the next generation – and the Post-Gazette is positioning itself squarely on top of it.
Project Inception
With funding from J-Lab's Networked Journalism initiative, funded by the Knight Foundation, to team legacy newsrooms with at least five hyperlocal news providers, the paper's editors set about to rethink, alongside others, how the organization could cover this massive topic.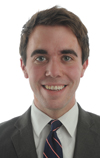 One of the paper's rising stars, business reporter Erich Schwartzel (pictured, left), suggested a thematic approach with a separate website dedicated to coverage of the Marcellus Shale. The site would invite other websites and bloggers covering the issues to contribute work in conjunction with Post-Gazette editors and reporters.
Newsroom leaders made 2011 the year of Marcellus Shale and asked Schwartzel to coordinate coverage for the new section.
The result is a stunning website: Pipeline launched in February 2011, with a printed eight-page special section appearing in the paper to drive traffic to the online section.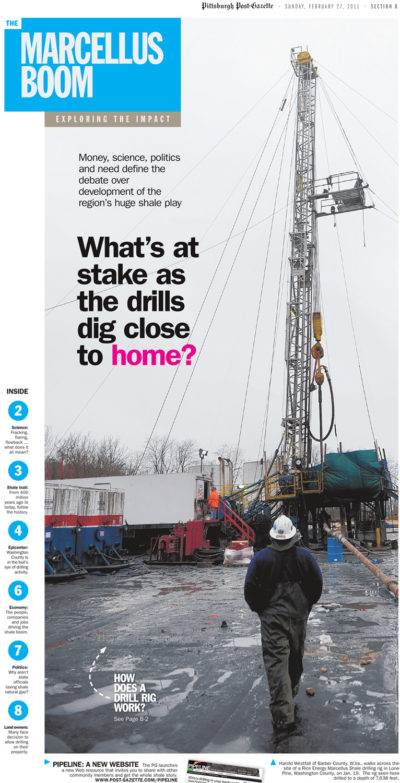 This is the first time a J-Lab Networked Journalism project launched a new topic website in collaboration with its partners. Two inaugural partners participated in the launch:
Burgh Diaspora is a blog run by a geographer that analyzes regional economies, particularly those impacted by significant population movement.
FracTracker.org is a data and reporting site run by the University of Pittsburgh's Center for Healthy Environments and Communities.
The launch timing was important, Schwartzel notes, as prospecting "landmen" are flooding the state, purchasing land rights that allow them to begin drilling on personal property. At the same time, reluctant residents are looking for reliable information about the process known as hydraulic fracturing, or fracking.
The controversial procedure of boring into the ground to extract the gas uses a fracturing fluid, a mixture that is primarily water with other chemicals added. Residents and environmental activists are concerned about the impact of this process on ground water and air quality. Fracking is the talk of Pittsburgh and the entire region. As Schwartzel put it, "it seems that in the last few months it just blew up."
Finding Partners
Feeling an urgency to stake a claim on the story, the Post-Gazette's Mary Leonard decided to launch the Pipeline site quickly and add more partners after the launch.
This is the first time a J-Lab Networked Journalism project launched a new topic website in collaboration with its partners.
Weeks after the launch, the Post-Gazette added a public radio show, The Allegheny Front, to the partner mix. As part of the arrangement, the environmental news program will incorporate audio collected by the newspaper and will, in turn, train newspaper reporters on how to produce stories using sound.
As more potential partners surface, Leonard and Schwartzel are now deciding how best to expand the number of partnerships.
Samantha Malone calls her organization's partnership with the Post-Gazette mutually beneficial. "It adds credibility for us both," she said, "and shows that we are all willing to step out of the traditional bounds of how we work.
But just building the site does not mean readers will come, insists Leonard. "The work that Erich is doing takes a lot of work and energy, but to build the community takes work, too. A lot of this is hands-on discussions, lunches and meetings. All this will make the site more successful."
The Site Booms
Pipeline's most popular feature has been a digging permit map that displays data covering nearby counties.
The map launched in February with information from five counties, but Schwartzel said that because of user demand, the map now includes permits for every county in the state.
In late March, the site added an interactive graphic that explores the industry connections and political donations of members appointed to the governor's Marcellus Shale Advisory Commission.
Pipeline's most popular feature has been a digging permit map.
The site incorporates a strong social media presence, which may be key to its success. Elisabeth Ponsot coordinates the site's Facebook page, Flickr stream for sharing photos and a recently launched Tumblr blog for shorter posts. But above all, hashtags Ponsot uses on Twitter – including #hydrofracturing – have been most helpful in expanding the site's reach.
In addition Post-Gazettee and partner stories, the site also features video stories, interactive maps, a calendar of important community events and "Shale Talk," a forum for community members to weigh in individually.
The editorial team views Pipeline to be an important information source for anyone seeking additional information about Marcellus Shale and its impact on the region.
"A lot of the most valuable resources are not the things you check every day," Ponsot said. "They're the things you do when the 'landman' knocks on your door."
Newsroom Changes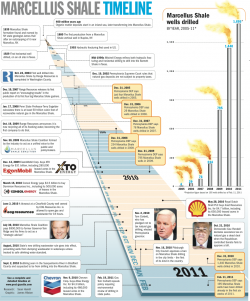 Executive Editor David Shribman and Managing Editor Susan Smith set the tone early, making it clear the Post-Gazette would not be beat on this story. Since then, the Pipeline project has had a noticeable impact on staff culture.
"As a newsroom, we've covered the issue of Marcellus sporadically, without a particular focus or team," said Leonard, who oversees Post-Gazette.com.
Now, a cross-newsroom team works on Pipeline and, Schwartzel says, fellow reporters and editors routinely approach him with ideas for stories and maps.
The focused attention on the topic has afforded reporters the opportunity to work on larger stories, explained Schwartzel. For example, a reporter went to Texas to look for lessons the Pittsburgh region can learn. They returned with a two-part print and online story, along with two 10-minute video pieces.
What's Next
The Post-Gazette, under a marketing department initiative, is also engaging community members by producing a number of free public energy forums on Marcellus in the coming months.
"We've got a brand and we've got an authority and a trust, and we don't want to do anything to upset that or undermine that," said Leonard.  "But we also realize there's a bigger world out there."
The site continues to grow, with additional recognition from media writers who cover the journalism industry and partnership interest from other Pennsylvania newspapers.
The Pipeline project and J-Lab funding have taken the Post-Gazette out of its conventional thinking, says Leonard.
"We've got a brand and we've got an authority and a trust, and we don't want to do anything to upset that or undermine that," she said. "But we also realize there's a bigger world out there."
Visit the Pipeline site: http://shale.sites.post-gazette.com/