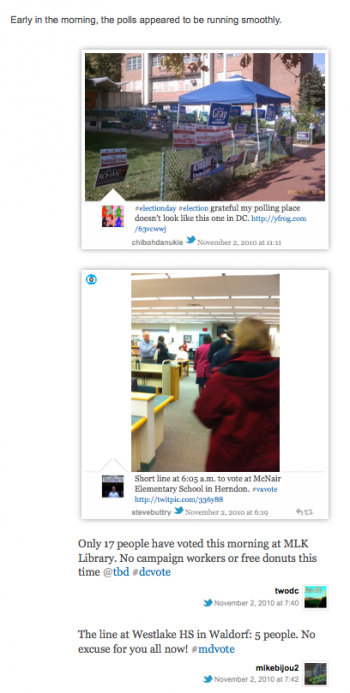 There's user-generated content, and then there's content, generated by users. The former can be a free-for-all; the latter can be a tremendous and smart way to supplement news coverage.
It is often the aspiration of many news publishers to use the eyes and ears of their readers to fuel at least some aspect of their coverage. 
For the 2010 general election, a new online product earned a seat in many newsrooms by helping journalists do just that, while another appears to be waiting in the wings.
Start-up Storify is a free tool that helps sites of any size bring together online elements (such as text, tweets, photos and videos) created by anyone (reporters, fans, other newsrooms) into a comprehensive unit. 
It is essentially a giant curation tool and its use redefines a story to be narrative text with various and disparate elements included within a single package.  Used correctly, it can bring together those pieces once pulled into a single reaction story, in a less cumbersome and visually appealing way.  (Not to mention, from a social media standpoint, Storify will notify included users that their tweet is a part of the coverage.)
To get a better sense, Storify used itself to tell the story about election night coverage that used the service. 
Among the big name publishers that used it to simplify storytelling on election night: The Los Angeles Times, PBS, Detroit News, Houston Chronicle, Denver Post and Belgium's Le Soir.  But they all seemed to focus on general reader opinions, what could be called the free-for-all of UGC.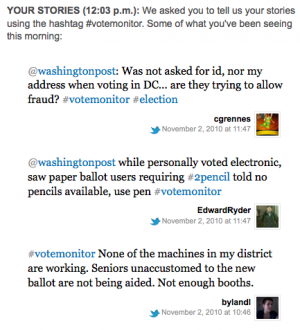 In Washington, D.C., two newsrooms effectively used Storify to focus on single election day topics: TBD.com explored reported violations and voter issues at the ballot boxes, while the Washington Post's coverage focused on the polls early on, and of tweeted concessions and victories later in the evening.  They both kept the content specific enough that readers could easily digest it.  TBD, and other sites nationwide, have experimented with using Storify to effectively cover breaking news stories because you can easily search for new details and photos in tweets and posts.
The day after the election, Burt Herman, co-founder and CEO of Storify (and creator of Hacks/Hackers, in his spare time) told me:  "The election is one of those stories that was made for Storify. No news organization could possible have journalists at every polling place.  By using Storify to pull together social media, journalists can include more voices in their stories while also engaging with the audience."
Journalists can search Twitter, Facebook, Flickr, YouTube or the web as a whole to find specific elements that can then be dropped into place in the Storify storyline. 
So for instance, rather than sift through everything on Twitter that mentioned "election," The Washington Post asked its users to mark tweets related to voting problems with a specific Twitter hashtag to more easily identify them.  A quick search brought up more than enough for editors to select the best tweets and drag and drop them onto the Storify page.  Editors could also search for the names of their reporters or contributors, and pull reporter photos, blog posts or tweets together into a page of content, too.  Rather than handle the whole process manually, searching for and including related items one by one, Storify simplifies the process by discovering those elements and allowing users to drag-and-drop those bits into place. 
Visually, elements within a Storify package are bite-size and more visually pleasing than traditional blocks of text.  And from a usability standpoint, readers can click their way through to the source material with ease.  The process of dragging and dropping elements into a story takes a technical burden off of time-strapped newsroom editors.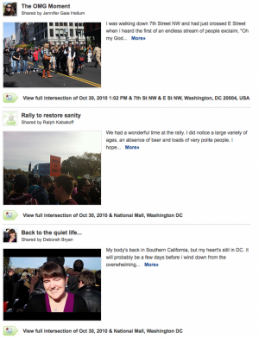 While Storify was a proven success on election night, Intersect may be used more frequently in the future to tell multiple, longer stories from the users point of view.
Its users submit their own tales (often with pictures and text), and site visitors or newsroom editors can pull together stories at the intersection of a specified block of time and geographic place. 
When The Washington Post wanted to crowdsource individuals' stories about the recent "Rally to Restore Sanity and/or Fear," it searched for Intersect posts near The National Mall around the same time as the event.  What resulted were 12 pages full of individual tales and photos. 
Both Storify and Intersect are behind beta walls (really beta, says Intersect), but would-be users can directly request invitations to try them out.  Storify can be used to generate "stories" that can be added to sites immediately, while Intersect is only partnering with a few news organizations in one-off partnerships at this time. 
As these products evolve, composing these stories and adding them to your site should be no more cumbersome than writing a WordPress blog post or dropping a map's embed code onto your site.
As others have already written, there are many ways journalists can use Storify.  One of the best use of these tools is in smart curation of user-generated content.
BESsBESsBESsBESsBESsBESs
There's no reason only large newsrooms should be implementing Storify and Intersect. In fact, think of the great reporting and publishing power it will free up if these tools can be used on the hyperlocal level.